Water Project Research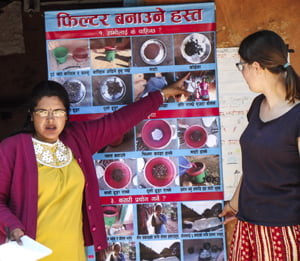 Interested in volunteering or internship for environment and water research program? We have designed integrated environmental conservation projects to assess water supply in target communities. As a volunteer or intern your water research in Nepal might include:
Climate change awareness
Water pollution and sanitation
Water conservation
Water conflict
Rainwater harvesting
Micro hydro power
 Water Issues
The water research project is run within the environmental conservation program which aims to manage water related issues in Nepal. Nepal is the second richest country in water resources behind Brazil. Despite its abundance of this natural resource, optimum distribution is and crucial challenge to be overcome. Government initiatives have unfortunately lacked monitoring and been relatively unsuccessful. With the team at VIN we will hope to address these issues by empowering community to take charge of their own challenges.
 Our Aim
To research and analyse existing water related issues from which we can form sustainable development options in cooperation with the communities we work with. Volunteers in this project will conduct water research in Nepal ranging from:
Use and allocation disputes
Sanitation coverage
Hygienic water consumption awareness
Water pollution
Hydropower prospects
Rainwater harvesting
Water research
Distribution of irrigation
their technical expertise with community people and help empower them. You would be responsible in designing program for VIN which addresses the water shortage in the community. At VIN educating local nepali about the importance of environmental conservation is a great way to positively influence community development. 
Volunteers / Internship Description:
The volunteers will develop a concept paper on "Water Research Project". Based on the concept, they will prepare research tools like questionnaire, observation, focus group discussions their own or with assistance of VIN's staff in the target community. Conduct research, analyse data and submit research report to VIN on various water related issues such as:
Cause of water conflict: There are various disputes in the community regarding the use of water such as source water disputes, sharing water, use of irrigation channel and dispute among various associations.
Health and Sanitation coverage: The rural and backward communities in Nepal acquire very less knowledge on sanitation that is way they are very vulnerable to various water borne diseases. Awareness plays the pivotal role to minimize the unhygienic practice among the people. You would be responsible to create awareness on sanitation issues.
Water and irrigation: The farmers need water for irrigation. But there is no supply of water has per the demand and this has hampered the agriculture production in nation. You would be responsible to find out what do farmers manage their demand of water, what alternatives they have used so far
Rainwater harvest: Analyse whether or not community people are aware on rain water harvest, if yes, are they utilizing it in a right way or getting benefit from it.
Climate change impact. The volunteers will study on the impact of climate change in the target community. You will find out the natural disasters occurred and its affect in the community, direct and indirect climate change impact in the community
Water pollution: Water pollution in urban areas is a very dreadful problem. This problem has been now observed in the rural areas as well. The volunteers will aware people about water borne diseases its cause and impact. They will participate in regular health camps in community.
Hydropower prospects: As there is huge possibility of hydropower prospects in Nepal The volunteer would find out the hydropower prospects in the target community.
Effects on women and children: The women in the rural areas have to travel very long distance to fetch drinking water. After the tiresome travel they are forced to work in the household activities. They will get time for their health and empowerment. These backward women thus remain the same whole time. You will study the condition of these women and help them with possible ways for solution.
Collect facts and figures related to the water status of communities in Nepal.
Meet with stakeholders, communities, organisations/associations involved in water research and national authorities to discuss water issues to be addressed.
Specific information
Water conflict issues: Water is used mainly for domestic and industrial purpose in Nepal. Due to rapid population growth, urbanisation, industrialisation there is excessive demand of water. There is a huge rivalry between domestic users and industrial. Similarly, other disputes in community are source water dispute, sharing water, consumption of drinking water, use of irrigation channels, disputes among various water users' associations/consumer groups.
The 'untouchables' in society have suffer from deprivation of clean water; as they are not allowed to use taps, the must consume the polluted water of rivers and ponds.
Nepal also has Trans-boundary water conflict with India; due to its dependence on India for imports, many water rich areas are unavailable for Nepali citizens.
Water and sanitation coverage: The total sanitation coverage is 43.04% out of which rural areas mark 37.0% and urban 78.30%. Only 27% of Population has access to sanitation and others are totally affected.
Unmanaged waste, drainage nearby the water sources invites various water borne diseases. Majority of people in rural areas do not have latrines and defecate in open.
Many rural people are even not aware about the importance of hand washing with soap after toilet use. This is a key indicator to the hygiene problems faced, and how water research in Nepal and public awareness programs can make a difference.
Water Statistics in Nepal
According to Water Aid Nepal, over 3 million people in Nepal have no access to clean, safe water. Over 20.6 million people, Nepal two thirds of the population, don't have access to adequate sanitation. 1,927 Nepalese children die each year from diarrhoea caused by unsafe water and poor sanitation. Only 27% of population has access to basic sanitation and those who doesn't rely on surface water sources. Water supply coverage is 80.38% whereas the sanitation coverage is 43.04 %.
Water crises concern both the quantity and quality of the water available in both rural and urban settings. Nepal has 83,000 MW hydropower potential but only 42,000 MW economically viable. We are facing more than 8 hours of load shedding a day. Due to lack of technical expertise, poor economy, political turmoil water issues have remained largely unaddressed. In the mountainous regions access to clean water is often the issue, whereas cities face total water scarcity.
Water scarcity is high both in urban and rural areas. The urban people depend on ground water for consumption. It is reported that 90% ground water is contaminated by coliform bacteria and arsenic in the Terai region. About 13,000 children die every year due to water borne diseases. Clean water is the key to eradicating the proliferation of water borne disease in Nepal.
Water Pollution in Nepal
The major cause of water pollution is industrial, household waste and solid waste disposal discharges directly into rivers. Coupled with rapid population growth, industrialisation and urbanisation, VIN is getting behind critical environmental conservation. It is estimated that every year 20,000 new houses capital city. Conservation of this water source has crucial consequences for future generations. Water research into how
Hydro power prospects
In Nepal there is 225 billion cubic meter of water (annually), of which 210 billion cubic meter water runs to Ganges and Brahmaputra and remaining 15 billion cubic meter water, which is available every year, has not been managed well. Nepal has capacity of above 43 GW which is economically viable. The annual demand is increased about 50MW per annum. The hydro power potential in Nepal is lagging behind because of various reasons. Huge investment is required to for the hydro power projects which poor country like Nepal cannot invest on its own. Therefore it is necessary to attract Foreign Direct investment, donors, and investors not only for financial support but also technical expertise.
Rain water harvesting prospects
Rainwater harvesting simply to understand is collection of rain water in a monsoon season in a reservoir to be used in dry season. Rainwater harvesting is suitable alternative to deal with water scarcity problem both in rural and urban areas. It is estimated that there are now more than 160 communities that subsist on rain water to fulfil their agricultural need. Rainwater harvesting can solve various water related issues such as:
Seasonal scarcity
Unreliable regular water supply
Contaminated water
Isolated households proximity to sources
Climate change – the impact
Globally climate change is critical topic of discussion, and in the context of Nepal, rapid melting of glaciers, decreasing snowfall and dwindling ground water stores are some of the challenges being faced. The Nepalese economy largely depends on agriculture which makes up 40% of its GDP. Due to an inability to harness water for irrigation, agricultural production has been adversely affected. The melting of snow and glaciers affect dry season water availability. Meanwhile arable land is affected extreme weather patterns, as a result of climate change. With current predictions, average precipitation over Nepal is decreasing at the rate of 9.8mm/decade. This reduced rainfall hampers the irrigation and operation of hydro-power and mills.
Project Summary
| | |
| --- | --- |
| Program: | Environment & Conversation |
| Project: | Environment: Water Project Research – Allocation & Conflict |
| Start Dates: | 1st and 15th of each month |
| Language Requirements: | English (Basic Nepali phrases provided) |
| Food and Accommodation: | Nepali standard with host family in the working community |
| Key Activities: | interview local people, companies, organizations, documentations and much more |
| Beneficiaries: | Local Community of Bagmati Basin |
| Working Hours: | 5 to 7 hrs – 5 to 6 days per week |
| Required Qualifications and Skills: | Degrees or relevant experience in water and sanitation, or associated disciplines (Hydraulics, Hydrology, Water Management, Civil Engineering, Public Health). |
Other Volunteering Programs
What our Volunteers have said
Testimonials