Art and Craft Volunteer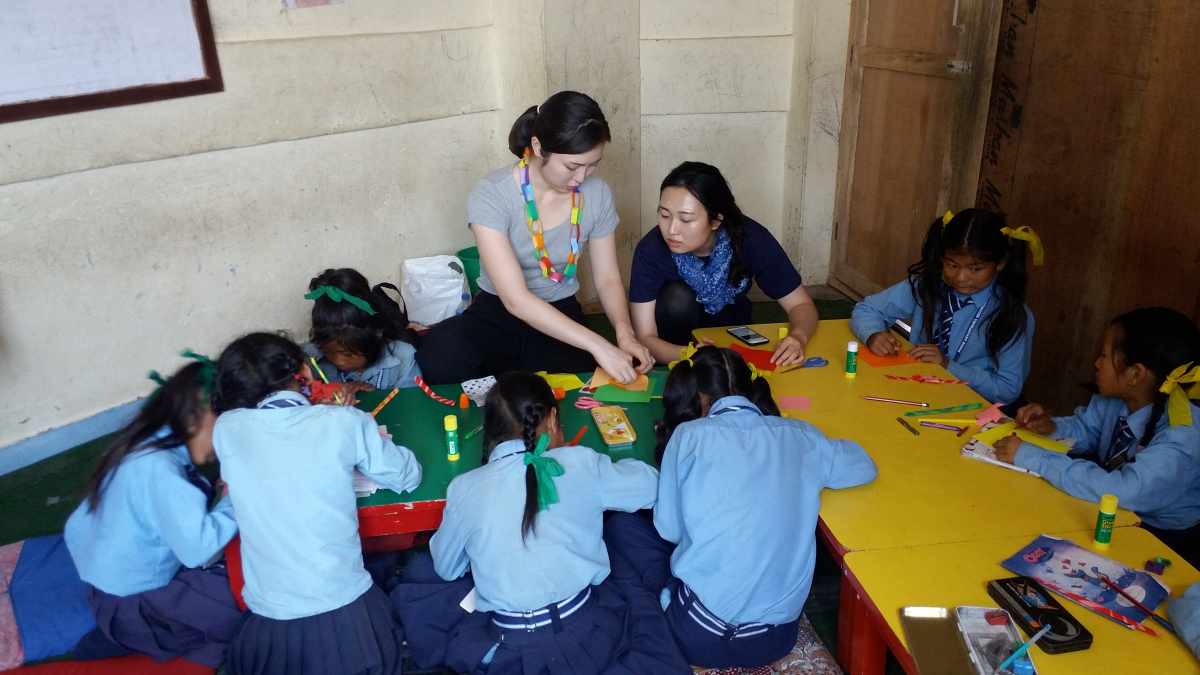 Art and Craft Volunteer Project aims to provide meaningful active self-learning and self-expression for children to be able to realize their own potential. Teaching and learning process in Nepal is very traditional. A great deal of importance is given towards academic learning and securing better marks. However, there is little or no significance of creative expression like art and craft. From as early as nine in the morning children go to school and study. They get a thirty minutes break for lunch and continue with their classes till four in the evening. They go home, and are expected to do homework and study until bed time. The same cycle is repeated every day. Moreover, children have to face abundant of competition when it comes to their academics. Every single one is expected to be better than the other by his/her parents and teachers. The trend to compare children on the basis of marks secured is very common in Nepal. Therefore, the process of learning become very monotonous for children which in turn destroys their imaginations and expressions.
WHAT WILL BE YOUR ROLE?
During your placement, you will be placed in one of the VIN's program locations. You will be taking art and craft classes in one of the community schools with children of diver age-group. You will be conducting recreational sessions like drawing, painting, origami and other extra-curricular activities. You can also take time to conduct mindfulness sessions for children. As an art and craft volunteer, you will enable them to understand their own potential or imagination and express them through art. You will also be conducting confidence building activities and motivating children.
HOW WOULD A TYPICAL DAY LOOK LIKE?
| | |
| --- | --- |
| 07:00-08:00 | Tea/Leisure Time |
| 08:00-09:00 | Breakfast/Brunch (Nepali meal – Daal-Bhaat) |
| 09:00-10:00 | Preparation for sessions |
| 10:00-13:00 | Conduct sessions |
| 13:00-14:00 | Lunch |
| 15:00-17:00 | Conduct sessions |
| 17:00-20:00 | Preparation for next day/Leisure time |
| 20:00-21:00 | Dinner (Nepali meal – Daal-Bhaat) |
WHO CAN APPLY?
Are you a good artist? Do you like craft? If you think that you can help the children diversify their creativity and imagination through art and craft, you are most welcome to join our art and craft volunteering project!
PROJECT AT A GLANCE
| | |
| --- | --- |
| Program | Teaching |
| Project | Art and Craft Volunteer |
| Start Dates | 1st and 15th  of each month |
| Language Requirements | English (Basic Nepali is provided) |
| Food and Accommodation | Nepali standard at the monastery / Nunnery or host family |
| Key Activities | Conducting art and craft sessions for children and youth |
| Beneficiaries | Children and youth |
| Working Hours | 4 to 6 hours a day / 5 to 6 days a week |
| Required Skills | Teaching, Passion to sharing culture, Positive attitude, Excellent communication skills |
Other Volunteering Programs
What our Volunteers have said
Testimonials