Reconstruction and Sustainability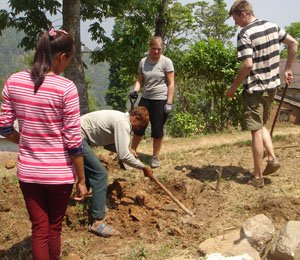 Volunteering within VIN's Construction and Manual Work Program involves building basic infrastructure in rural communities of Nepal. The households of many within the communities that VIN is assisting remain without adequately constructed toilets! Beyond independent households communities at large do not have access to facilities such as libraries or classrooms. Volunteers through VIN now have the opportunity to construct some of these basic facilities to improve the quality of life of the Nepalese.
 Objectives
Construction and manual work, a hand on volunteering project, is designed to help disadvantaged communities and benefit to the volunteers who wish to contribute to the sustainable development of Nepal. The foundation of such development requires basic infrastructure such as toilets, schools, school compounding, community learning centres, orphanages, wells and educational facilities. Providing this new infrastructure allows communities to enjoy greater health, education and economic outcomes. 
Role of Volunteers
Volunteers on the construction and manual work projects, who choose to participate in this program will collaborate with skilled constructors appointed by VIN and local advisors. The majority of work will consist of unskilled manual labour: digging holes, mixing cement and the carrying of construction materials together with the locals. Construction projects that you will be helping with include: soak pits, libraries, compound walls and classrooms. After their construction, it is also helpful to provide teaching sessions about the significance of these new constructions. Due to the nature of manual labour, this volunteer program is one that challenges both your mental and physical tenacity.
 Challenges for Nepal
Over 80% of the homes in rural Nepal that VIN works with do not meet adequate sanitary requirements. Most of the population lives in rural areas which lack infrastructure, electricity, running water, etc. The good news is that the construction of simple structures such as toilets and schools can have a significant impact on a whole community's quality of life.
Underfunded government schools are very basic, but construction efforts lower the risk of serious injury, and ensure that children can learn in a good environment. Many children drop out of school due to a lack of a congenial study environment. VIN has tries its best to provide support to those schools in its working communities who collaborate with volunteers to construct basic buildings and other urgently needed facilities through volunteer abroad projects.
VIN appeals to interested individuals, students, tourists, professionals, organizations, and other groups for the support of funds and materials, but also appeals to them to get involved with the construction program set up. This program offers a hands-on, experience of the real Nepal, while allowing volunteers to see the rural beauty of the country. Volunteering is a rewarding experience, in that each person works together to offer a hand to the less fortunate. The gratitude volunteers receive from the community people they help is immense.
When the volunteers first arrive in Nepal, they are given the chance to sight-see and take part in some light trekking, to see some of the breathtaking mountain panoramas. After the volunteers return to Kathmandu, they will once again set out, but this time for the schools or health posts in rural areas to construct much needed physical structures such as toilets,libraries, classrooms, compound walls, water supplies, gardens and playgrounds. These groups work in each rural areas for one or more weeks, in a team alongside locals to build sustainable, practical systems.
Time spent in the village, makes each volunteer more than just a tourist, especially in the eyes of the locals. It is not uncommon for a volunteer at this time, to feel an innate transformation; from being an outsider, to someone who reprioritises their values adopting community progress as that of their own.
Project Summary
| | |
| --- | --- |
| Program: | DRR |
| Project: | Reconstruction and Sustainability |
| Start Dates: | 1st and 15th of each month |
| Language Requirements: | English (Basic Nepali is provided) |
| Food and Accommodation: | Nepali standard at host family in the working community |
| Key Activities: | Manually helping locals with the construction and renovation of sites and sharing your labor skills (if any) |
| Beneficiaries: | Schools, local communities, women and children |
| Working Hours: | 3 to 5 hours a day / 5 to 6 days a week |
| Required Qualifications and Skills: | Keen to help local disadvantaged people, flexible |
Other Volunteering Programs
What our Volunteers have said
Testimonials