Out of 14,380 confirmed cases of Corona virus in china, 304 died.  Following the spread of deadly coronavirus, the World Health Organization has declared a global health emergency.
In Nepal, out of six suspected cases, one Chinese national found positive.  Till now the situation seems under control but if we do not act on time for its early detection and prevention, it can be a big problem to Nepal.
The government has already started detecting cases in transit. Media coverage has drawn people's attention. However, this is not sufficient for disease prevention. We should organize a mass campaign to aware people of the grass-root level. People should be aware of symptoms and prevention of the diseases. There should be a mechanism for screening the cases in the early stages.
Coronaviruses are zoonotic, meaning they are transmitted between animals and people.  Common signs of infection include respiratory symptoms, fever, cough, shortness of breath and breathing difficulties. In more severe cases, the infection can cause pneumonia, severe acute respiratory syndrome, kidney failure, and even death.
Standard recommendations to prevent infection spread include regular hand washing, covering mouth and nose when coughing and sneezing, thoroughly cooking meat and eggs. Avoid close contact with anyone showing symptoms of respiratory illness such as coughing and sneezing.
WHO's standard recommendations for the general public to reduce exposure to and transmission of a range of illnesses are as follows, which include hand and respiratory hygiene, and safe food practices:
Frequently clean hands by using alcohol-based hand rub or soap and water;
When coughing and sneezing cover mouth and nose with flexed elbow or tissue – throw the tissue away immediately and wash hands;
Avoid close contact with anyone who has a fever and cough;
If you have a fever, cough and difficulty breathing seek medical care early and share previous travel history with your health care provider;
When visiting live markets in areas currently experiencing cases of a novel coronavirus, avoid direct unprotected contact with live animals and surfaces in contact with animals;
The consumption of raw or undercooked animal products should be avoided. Raw meat, milk or animal organs should be handled with care, to avoid cross-contamination with uncooked foods, as per good food safety practices.
Moreover, simply using face masks, covering face during coughing and sneezing and greeting by doing Namaste instead of handshaking can prevent disease get widespread. Namaste!
I arrived in Nepal on 14th September to volunteer with Volunteers Initiative Nepal. I had signed up for 10 weeks for Water Research Project. Upon arrival at VIN office, I had to attend the two-day induction program along with other volunteers for September 15 intake.  I got to learn more about VIN through the induction program. The first day covered topics such as VIN's objectives, how the volunteers' program fee is put to use and also about the culture and Nepali language. And, the second day involved details about the project I would be involved in. I was informed by my supervisor that I would be testing the quality of water and was provided with a program schedule.
The next day I was taken to the host family at Jitpurphedi community. I was to stay with the family for the entire project duration. All the members of the family was friendly and accommodative. For the rest of the week, I read many papers and reports about water sanitation, and manuals for the test to prepare myself for the project. However, the more information I received I felt uncomfortable conducting the water tests and informed my supervisor. Instead, I decided to conduct surveys and campaigns on hygiene and sanitation in the community. My supervisor gave me the permission to do so and I presented him the questionnaire for review during the weekend.
From Monday onwards, I visited Okharpauwa community with VIN's Local Facilitator, Deepak Ghimire to conduct the survey. Till date, I have interviewed 27 families with the help of Deepak, who translated everything. I hope the data I collect will help VIN in formulating strategies to improve the sanitation situation in the community.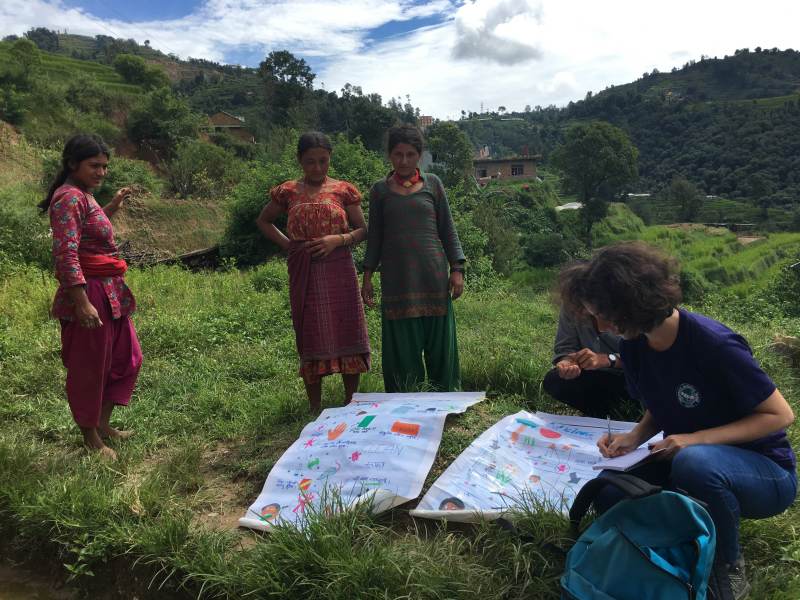 Read more
Read less