Clement Pfeiffer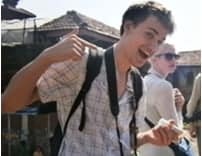 From 18/04/2013 to 31/05/2013
Leaving to another country on one's own can be a lifetime experience. Leaving to Nepal with VIN is a lifetime experience. The organization makes things easier for volunteers to be perfectly accommodated and prepared to experience living and working in such an amazing country.
The induction days are useful for two reasons : preparation for working and cultural aspects of both volunteering and placement, but also you get to know several volunteers with who you will spend a lot of nice time with ! (Chitwan, week ends in Thamel, trekking
The general look back on my trip to Nepal is an incredible human experience, amazing memories, and the discovery of a country which will stay forever as one of my favorites, Nepal.
What our Volunteers have said
Testimonials