Volunteer Trekking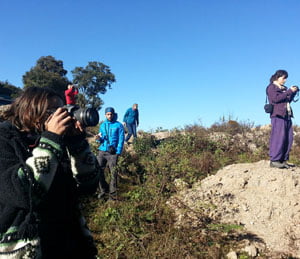 VIN's summer volunteer trekking program is one of the volunteering program that combines Nepali culture, trekking and adventure, volunteer work for the good of the locals, and shopping in authentic Nepal, all together in a matter of weeks. VIN aims to deliver the experience of a lifetime to foreigners, and believes that the itinerary put together will successfully integrate the two concepts of working and summer trekking in the Himalayas.
You as a volunteer will be given a proper orientation on how to handle yourself in Nepal, and then after this, you will be placed in the Nepali village, with a Nepali family, in a home-stay set up, where you will be able to make visits to the local schools or orphanages and teach English. You may also work with women empowerment groups or with children's clubs and early childhood development centres (ECD)
After the Volunteering, you will be led on a trekking expedition – either to Everest Base Camp or Annapurna Base Camp. Finally, before you leave Nepal, you will be given some time to explore the city of Kathmandu, shop around for souvenirs, and enjoy the nightlife of being Thamel. 
Our Aim at VIN
VIN is dedicated to promoting the most affordable and exciting trekking and volunteering programs in Nepal for the betterment of local communities in need as well as enriching the lives of travellers around the globe. Its unique and innovative ways of operating make it a highly competitive and popular trekking and volunteer placement in Nepal. VIN is well-known to provide a truly satisfying and fulfilling experience for all travellers.
Volunteer work in Nepal is sure to reward one psychologically as well as feed their charitable soul. Getting to know the local cultures and the different ways of life that persist across the landscapes of Nepal while helping volunteer with those entities (women, children, youth and teachers), will be an experience like no other. It is no surprise that more and more people are choosing to volunteer in Nepal every year with VIN. It is a fantastic opportunity to gain a different perspective of the world we live in, through the eyes of the less fortunate, in the realm of social work. We heartily welcome you to join our meaningful volunteer programs in Nepal and change the way you see the world: make a difference.
Through the placement of local and international volunteers in various volunteer programs, we aim to serve as the backbone of the local communities we work in. While we allow our volunteers to integrate themselves into the authentic Nepali culture, we also make sure to keep in mind the safety of the foreigners. VIN's summer volunteer and trekking program has gained the reputation of being a perfect balance between traditional, provided by the home stay with local families, and the more modern, provided by the visits to the bustling city of Kathmandu and the energetic nightlife of Thamel.
Our volunteer programs include both short term (1 week) to long term (5 months) options. We however, have highlighted the "Summer Volunteer Trekking Program", a three to five week course, as we find it will be the most practical yet thorough of all travel plans. With the offer of a low cost volunteer program in Nepal, we invite you to join us on our volunteer programs in orphanages, healthcare, environment, teaching English, women empowerment, youth empowerment, street children, medicines, Tibetan monasteries and much more. 
Summer Volunteer Trekking Program Highlights
Three days program induction including Nepali language, culture, and sight-seeing;
Home stay with local families in rural setting in Kathmandu for cultural immersion;
Volunteer with orphans and disadvantaged children, or construction work, Teaching Program, women's empowerment work, youth/ children's clubs;
Classic trekking to explore Everest Base Camp or Annapurna Base Camp for 12 to 14 days (otherwise costing 1200USD);
Personalised small group experience makes for safe trekking;
Local guide and porter (one between the two trekkers) for trekking;
Hiking in the outlying areas of Kathmandu
Program Itinerary for Summer Volunteer Trekking Program
Program Induction Phase
Day one: VIN's staff will receive and welcome you at the airport and place you at a hotel in Kathmandu (during program induction time you will stay there)
Day two: An orientation about VIN's community programs, logistics and contracts. After that there will be two hour long Nepali Language class and cultural tips
Day three: Continue Nepali language class, Cultural Do's and Dont's, Health Talk, and Half day sightseeing to Baudhnath, Pashupatinath / Swoyambhu (monkey temple);
Day four: Program orientation – teaching Tips, Nepali language instruction and you will be escorted to the placement site
This Itinerary may differ based on the group size and program
Home Stay and Volunteering Phase (18 days) -This can be extended as your time availability
Community / school / orphanage / women / youth empowerment programs and cultural immersion
During these days, volunteers will work in orphanage centres, schools, children's / youth / women's clubs; or community construction work. Volunteers will teach basic conversational English to the children and organise fun activities in order to encourage their participation with our staff. In their free time, volunteers may hike to the beautiful areas surrounding Kathmandu Valley and experience the peace and tranquillity of the areas. One's role will be made clear during the program induction period.
Trekking and Adventure Phase (12 to 14 days)
The final two weeks offer a chance to satisfy your thirst for exploration and discovery on a Himalayan trekking experience. You may either choose to go on the Everest Base Camp Trek (EBC) or the Annapurna Base Camp Trek (ABC). You will drive to Pokhara or Bashi sahar or fly to Lukla to begin your trek to the Himalayan region – via the world famous Himalayan trekking route. The Himalayan range is one of the most enthralling treks that one could ever yearn for. The Annapurna and Everest hike is not only a hiking destination, but also a journey where you can witness diverse communities, cultures, religions and most of all, the world famous Gurung or Sherpa culture – the most widely known climbers of the world.
This program itinerary is merely a proposed sample and may be altered to meet the needs of the volunteers and changes in field conditions. This proposed itinerary will be finalised during orientation in Katmandu. It might also alter due to weather!
Shopping and Departure Phase (two days)
The volunteers will stay at Kathmandu in a hotel and can use their time for exploring more of Kathmandu and do some shopping if you wish to. Our staffs will help you if needed and the last day our staff will drop you at the airport. See you again!
Eligibility and Skills Requirement
Minimum age 18 year;
You do not need any formal training or experience to participate this program, but whatever skills and experience you have will be taken into account when arranging your day-to-day activities;
Volunteers need to be independent, enthusiastic and adaptable / flexible, hard-working with an open-minded attitude;
All applicants should have: a desire to help the people of Nepal, flexibility, self-motivation, openness to a new culture and a willingness to learn.
How to apply?
Complete on-line application form, click here;
Send with CV and 2 contact details for 2 referees;
Await confirmation from VIN for acceptance on to volunteer & trekking program;
Pay 75 Euros program booking fee;
VIN will confirm payment and send pre-departure information to get you ready for the program;
Full payment for the volunteer and trekking placement will be paid during your induction in cash.
Program Cost Covers
Intensive training and orientation appropriate to the length of your stay;
Meal and accommodation (Nepali standard) with host family during placement;
Transportation (pick up from airport and placement;
Stationaries during training / volunteer induction;
On site placement supervision support by VIN local staff;
Sightseeing in Kathmandu (Excluding entrance fees);
Trekking cost either Everest Base Camp Trek – or Annapurna Base Camp Trek (An experienced Guide – trained by Ministry of tourism, porters – generally 1 porter for 2 person, their food, accommodation, salary, insurance, for guide and porter. Bus transportation to and from trekking routes;
VIN's staffs and program support;
Tourist service charge, Vat;
Communication and office Service charge.
Note : For Trekking, you may choose any of above mentioned Trekking routes
The fee does not cover
Insurance – medical, travel, personal belongings
Flights – International and domestic
Personal expenses i.e. gift items, beverage, water bottle
Visa renewal and obtaining
Other expenses incidental cases
Kathmandu is a vibrant capital city of Nepal with places of great tourist attractions like Thamel, Patan, Swayambhu, etc. Kathmandu has a wide range of restaurants, internet cafés, clubs, shopping centers, and banks. The volunteers also have numerous opportunities to explore the sites under cultural heritage during their free time. Our volunteers can simply hike in nearby villages, ride bikes in Kathmandu, walk around the tourist city of Thamel, the options are unlimited.
Time: Nepal is 5 hours and 45 minutes ahead of GMT.
Climate: Our monsoon season starts from June till late August/ early September. Summer lasts from May to September with temperatures reaching 30 / 32 degrees. Even in the winter months from October to April, the bright sunny days can reach up to as high as 20 degrees but it will still be very cold at night.
Project Summary
| | |
| --- | --- |
| Program: | Volunteer  Trekking |
| Start Dates: | 1st and 15th of each month |
| Language Requirements: | English (Basic Nepali is provided) |
| Food and Accommodation: | Nepali Standard at host family in the working community |
| Key Activities: | teaching children / youth, child care orphanage/ ECD centers, construction & Manual work, Cultural immersion activities, trekking & adventure |
| Beneficiaries: | Children, youth, women, Schools, from the most disadvantaged communities in out skirt of Ktm |
| Working Hours: | 3 to 5 hours a day / 5 to 6 days a week |
| Required Qualifications and Skills: | High School complete, passionate to work with the people in need |
Other Volunteering Programs
What our Volunteers have said
Testimonials