Volunteer Travel Tour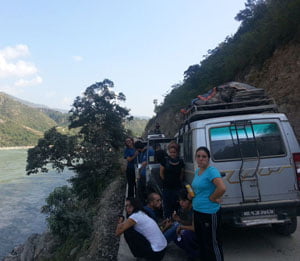 Summer Volunteer and Travel Tour program is designed to combine volunteering and traveling experience in Nepal. VIN's this particular program is tailored for those who would like to see Nepal's beauty, experience Nepalese's day to day life style and give back to the people in need.
Participating in our Volunteer and Travel Tour program will allow soft adventure activities like jungle safari, hiking and social giving. If you have only short time like 3 to 4 weeks break from your work or study and want to both volunteering and traveling, Volunteer and Travel Tour Nepal Program is a perfect combination. You can choose one of many community projects like child care, teaching, health care education, construction of VIN and will experience Nepali mountain to flat land, Chitwan Jungle Safari.
VIN provides a complete travel solutions like small guided tours, hiking, bungee jump, white water rafting, trekking, mountain flights – we guarantee the quality and best price and the saving will go directly to our community development initiatives
Program Duration: 3/4 weeks (2/3 weeks volunteering and 1 week travel tours) – You can also extend your volunteer time with VIN. It will cost €50 extra per week.
Program Cost: €675 (Euros) Including Travel to Chitawan Jungle Safari or Pokhara
Start dates: 1st and 15th of each month   VIN offers you a highly affordable Volunteer and Travel Tours to either go on a weekend trip, or choose to travel after you finish your volunteering work with us. This gives you an amazing opportunity to discover Nepal. VIN has two folds aims: contribute and be part of disadvantaged / marginalized community of Nepal and explore the beauty and multicultural society.
This program is designed to the one who has short time in Nepal and still wants to volunteer for Nepali people in need and explore different historical, cultural sites and beautiful areas. We encourage you to choose this program if you are on career break, gay year, summer holidays. You can make a difference while traveling!
Visit the beautiful landscape of Nepal and experience the magic of the Himalayas. It is a country of depth and diversity in culture, spirit, and geographical beauty from the wildlife of Chitwan National Park to Mt. Everest, the highest mountain on the planet. The cultural and religious diversity gives you the unique feel of Nepal, where the people of many regions are mixed with Indian and Tibetan influences. To visit the sheer grandness of a country that lies within the jungle of the Terai and the highest of the Himalayas is indeed one of the natural wonders of the world.
VIN offers fair price, multiple day programs to help you enjoy and experience more during your stay in Nepal. After you have done your 2/3 weeks volunteering program of your choice we offer the following travel programs for you to explore the beauty of Nepal
Your Role and involvement in the Program
Volunteers teach at community schools or orphanage homes to children aged 4-14 years old. Volunteers teach mainly English, and any other subject depending on their interest and ability. The program is non formal teaching and thus does not require any formal training or teaching experience. VIN has 10 partner schools, two orphanage centers, 9 early childhood development centers, 9 children's clubs, 38 women's clubs and 7 youth clubs. You can choose to work with any groups that interest you. All these listed programs (except orphanage) are in the same community and you can get involved more than in one areas. We have chosen a small community (population over 6000) but work with different groups so that we can monitor the impacts. You can do a variety of creative works for them.
 Skills and Educational Requirements
There is no educational requirement for this project; anyone with a heart to help people are welcome on this project! However proficiency in English is required. Volunteers MUST be flexible enough, committed and willing to learn.
Travel Plan during and after Volunteering
Sightseeing of 'sister' cities ( Kathmandu, Lalitpur and Bhaktpur) of Kathmandu valley, with different languages and cultures, the world heritage sites, e.g. Darbar Squares, Baudhanath and Swyambhunath (monkey Temple) Stupas, Pashupatinath (the cultural and religious place for Hindus), Budhanilakantha, Patan,
Visit Nagarkot or Dhulikhel for beautiful mountain views from Sunrise to Sunset.
Return to Kathmandu stay a night and go for hiking to Jitpur village for a day.
2 Nights 3 days jungle Safari to Chitawan National Park: The city is south -200km away from Kathmandu valley. Chitwan is famous for wild life and jungle safari. You will have opportunity to see many wild lives,e.g. tiger, One horn Rhino, Elephant, deers and many other species including birds. You may enjoy elephant bathing and Tharu cultural dances! Or 2 nights 3 days Trip to Pokhara Valley: Pokhara is west, 200km away, from Kathmandu, famous for Beautiful lakes, mountains, falls, caves etc
Airport Receive / Transfer:
Our representative will welcome you at the airport and will transfer you to your hotel / placement / home stay.
Program Orientation: A-three-day orientation will be provided by our staff. We cover areas like some basic language and culture, greetings, locations, TEFL, health talk, transportation Tips etc.
Lodging: Accommodation is provided in Host families/Guest House
Food: 2 or 3 Nepali meals (rice, lentil soup, vegetables, pickle) will be provided in this project depending on accommodation type.
Note: You must Pay the entrance fees to the heritage sites (approximately 22 USD in total) and if you wish to stay in the city during beyond the program, you must cover your food and accommodation.
More about VIN Volunteer Programs  
Our mission is to give people the right tools and knowledge to help themselves. The focus is on helping women and children through special educational programs and community training projects to promote equality, economic wellbeing and basic human rights.
We have our own projects, which has been focused at a particular community addressing overall need (women, children, youth and teachers) of the community so that we can monitor the impact of the programs. Comparatively the program cost is far more cheaper than other organization. It is because we are a local organization operating at the grassroots level and do not have to pay any international organization. Your program cost is directly accumulated to the basket funding. Any amount saved out from your food, accommodation, training cost goes to our local staffs and community projects. VIN is proud to run its projects ONLY though local and international volunteers' support. We accept volunteers at the community from 1 week to 5 months (international volunteer who arrives in August can work up to 10 months). If you wish to see better impact in the community, the longer you stay with the better.
VIN has been very effective organization for its integrated community development approach. Our programs run through out the year by our staffs and local volunteers whether there are international volunteers or not. You will never find any organization of its kind which has this kind of sustainable strategy for community development. Most volunteer organizations offer placements anywhere and everywhere but no continuation and no sustainability. We have been recognized by Nepal government and our partner organizations in Nepal and Europe. Once you join your helping hand with us, you will feel you become part of positive change. We help you to be part of Empowering Marginalised community in Nepal.
We offer volunteer / internship opportunities for Teacher Development; Teaching English at Schools; Youth Development; Volunteer at Buddhist Monastery; Community Learning Center (CLC); Health / Medical; Construction and Manual Work; Grant / Project Writing; Environment / Community Ed.; Computer Technology; Child Care: Orphanage Centers; Language/Culture/Home Stay; Early Childhood development; Children's Clubs; Work for Deaf, Blinds / Disabilities; Women Empowerment; Summer; Volunteer Nepal 2009; Health and Medical Internships; Women Empowerment / Studies; Environment / Conservation Education; International Journalism Internships; Community / Health Education.
All volunteers will receive: Pick up from the airport; Hotel Accommodation and food (theirs is ceiling amount- during Program induction) (e.g. Nepali language and Culture, Program Orientation, e.g. teacher training -TEFL TIPS Start up training varies from 2 days to a week long depending on length of stay); one day Cultural/ historical site tour; Accommodation and Food during placement – 2 to 3 meals a day at the host family / org.; Stationeries during training; Transfer to host family / placement; 24 hours emergency support; Regular support / visit and supervision of local staffs
To book a volunteer / internship position with VIN, you should send current CV with 3 referees, photo and should pay 100USD through PayPal http://www.volunteeringnepal.org/make-donation/ (in the message section, state Volunteer / internship booking cost) non refundable or bank transfer to
Please use the following bank address to send money for VIN:
Volunteers Initiative Nepal (VIN)
SWIFT CODE: EVBLNPKA
Current Account No: 02000105200185
Everest Bank Limited
Balaju, Kathmandu, Nepal
Note: You should pay the transfer fees (5.5% for PayPal or 10USD for bank transfer) With many volunteers' request, now VIN also organizes affordable adventure programs, e.g. Trekking, sight seeing, Bunge Jump, White water rafting, Jungle safari through our partner institutes. The cost will be a way cheaper and it also gives a little money for the organization's projects in the community. So you can make many things in one with VIN. We ensure your memorable and life changing experience with us.
Project Summary
| | |
| --- | --- |
| Program: |  Volunteer Travel Tour |
| Start Dates: | 1st and 15th of each month – 3 + weeks |
| Language Requirements: | English (Basic Nepali provided) |
| Food and Accommodation: | Nepali Standard at the host family in the working community |
| Key Activities: | teaching children / youth, child care orphanage/ ECD centers, construction & Manual work, Cultural immersion activities, Nagarkot to Dhulikhel hiking, Jungle adventure etc |
| Beneficiaries: | Children, youth, women, Schools, from the most disadvantaged communities in out skirt of Ktm |
| Working Hours: | 3 to 5 hours a day / 5 to 6 days a week |
| Required Qualifications and Skills: | High School complete, passionate to work with the people in need |
Other Volunteering Programs
What our Volunteers have said
Testimonials