Bhaktapur Darbar Square Nagarkot – Dhulikhel / Sankhu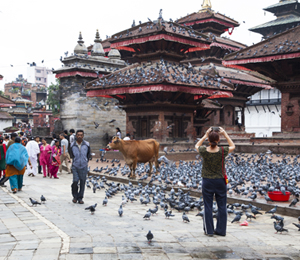 Name of the Trip: Bhaktapur Darbar Square Nagarkot – Dhulikhel / Sankhu
Duration: 1 night 2 days Sight Seeing & trek
Start dates: Organized based on volunteers suitable time table, usually in the weekends
VIN Price: 1 person $150, 2 person $110 each individual, 3 person $100 each individual, 4+ person $90 each individual
Includes:1 breakfast, one dinner, Accommodation at a View Point Hotel Nagorkot, Guide, Transportation by Private & public vehicle
Day I: The participants will meet at VIN office and depart for Bhaktapur at 11am. The guided Bhakatpur city tour will allow you to observe amazing historical & cultural heritages, arts and sculptures. You will then have lunch and leave for Nagorkot.
Sun set to Sun rise views at Nagorkot – Nagorkot is a famous spot for watching Himalaya closely. You may see the mountains from your bed of hotel view point.
Day II: You will leave for Dhulikhel or Sankhu trip after the breakfast. If you do not want to walk uphill, Nakorkot to Sankhu is the best option for you. It will take 4 to 5 hours and will have opportunity to see villages, mountains, jungles within this short hike. Should you want full day trek, Nagorkot to Dhulikhel is better option. It is 8 hours trek. Make sure that you are of good shape and like to walk uphill and downhill's. You will see amazing views of Himalayas, villages, jungles and much more. Depending on your routes, our driver will come to pick you up from Dhulikhel or Sankhu in the late afternoon.
What our Volunteers have said
Testimonials