Base Camp Charity Treks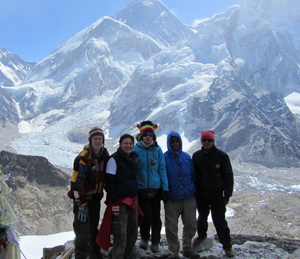 Trekking Everest Base Camp for a CAUSE! Raise funds for "Nepal Children's Home" – A home for children in need. As you may know VIN has planned to construct an orphanage home by 2015 to accommodate 50 + orphan, abandoned children. The project will cost VIN $505,880 (Rs.34,906,385)
VIN has been organizing Base Camp (EBC ABC) Charity Treks in an on going basis. We organize group trekking to Everest / Annapurna Base 4th and 18th of each month. We aim to raise at least $45,000 from these treks for our Nepal Children's Home" construction project. The construction will commence as soon as we have $110,000 raised.
Experiencing the challenge and thrill of the Everest / Annapurna Base Camp Trek is a must-do, once in a lifetime achievement. The trek up to the base of the highest mountain on Earth, and the even higher climb to the peak of Kalipattar (Everest) for the best view of the Himalayan peak, is an experience that will remain with you forever.
Volunteer's Initiative Nepal is seeking participants for the inaugural Everest Base Camp Fundraising Trek – people who wish to experience this breath taking 13 / 14 days trek, with the added objective of raising money for VIN's children's home dream project.
With every metre you climb, and every sky-touching mountain you pass, you will be raising crucial funds that allow VIN to empower marginalised communities, through various ongoing education, construction and awareness programs.
VIN is inviting individuals and/or small groups (7-10 people) to accept the challenge of raising $5000 US per group. Participants, either as a group or individually, could raise money in various ways:
You will be climbing 2564 meters from the Lukla airport to EBC. Kathmandu altitude 1355 meter (4504 ft), The altitude of the Lukla airport is 2800 Meter (9100 feet) and South Base Camp of Everest is at an altitude of 5364 metres (17598 ft).
Collecting outright donations from various sponsors, with the group goal of raising $5000 US in total per group.
Raising donations based on the days spent trekking (e.g. $5 for each day = $70), or based on distance traveled (e.g. a donation amount for every metre of elevation reached, or kilometre traveled). This means, if you ask for $1 donation for every 5 meters climbing, you will raise $513 and if you ask for $1 donation for every meter climbing you will raise $2564.
Alternative Cause -Collecting donations to reach a particular monetary goal that would VIN to make specific purchases, or complete a specific project (e.g. $15,000 would allow VIN to build a complete community toilet, improving sanitation and health awareness, and $300 could fund a month of the community vegetable growing program.
With a fundraising goal in mind, the EBC Trek will be an adventure with an incentive far beyond the mere physical achievement of reaching Everest Base Camp. Every step and every day traveled will be making a critical difference to the work that VIN is currently undertaking, and planning for the future, in Nepal.
Program dates: 4th and 18th of each month
Program duration: 12 -14 days
Group size: 2 to 10
Program Fee per participants: EBC – $1100
Program fee includes:
Airport pick up and drop off
Accommodation at budget hotel in Kathmandu;
Round trip flight fare to Lukla & Kathmandu worth $330;
Round Trip Bus fare to Pokhara & Kathmandu;
An experienced guide and a porter (shared with other trekker);
Your food and accommodation during the trek ;
Food (Breakfast, lunch, dinner) and accommodation for your guide, porter during the trek;
Salary, insurance for your guide and porter;
All trekking and climbing related fees as required
A half day sight seeing in Kathmandu to world heritage sights, e.g.Patan darbar Square, Pashupati / Baudhnath, Swyambhu (monkey Temple.
Prices Exclude :
Round trip international air fare to Nepal;
Food and accommodation if flights gets delayed due to bad weather before or after the trek days.
Extra personal expenses for food, water;
Entry Visa fees ;
Travel and medical Insurance;
Tips for guide and porter
Soft / hard drinks
Gifts for staff
What our Volunteers have said
Testimonials