Annapurna Base Camp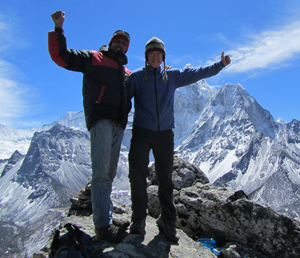 For ethically-minded nature lovers, VIN organises special Annapurna Base Camp trekking packages. All proceeds from sale of these trips go towards supporting our community programs. This means that as well as having fun in Nepal you are also giving back to the local communities. With widespread health, education and economic hardships faced by the people of Nepal, your support really can make a difference. The satisfaction that comes from not leaving others behind, is definitely a motivating factor as you trek across some of the highest Himalayan peaks.
The Anapurna Base Camp Trek provides breathtaking mountain scenery as you traverse the picturesque Modi Khola valley. Village to village trekking provides you not only with a rustically beautiful path, but also with a rich cultural insight. This unique trek allows you to experience a multitude of landscapes, from temperate bamboo forests, fields of rhododendron, and dramatic ravines left by glaciers. As well as the flora you will see the majestic wildlife such as the golden eagles hunting, or even the fanged musk deer foraging. This is a memorable experience which exposes the grassroots of Nepalese culture in some staggeringly beautiful locations. Some of the sights include:
Fishtail Peak (Machapuchare) 6997m
Glacier Dome
Gangapurna Peak 7454m
Fang Peak (unclimbed) 7647m
Price: $875
Although there is only one entrance to the national park, our guides provide rare access to the lesser known trails. This is more than simply trekking, it is an altruistic gesture which helps the most marginalised in Nepal. Come along, challenge yourself physically and mentally and rest in the knowledge that you are leaving footprints of change in the snow.
The Trip in Brief
From Kathmandu you will fly amongst snow blanketed 8000m peaks, to the lakeside town of Pokhara. From there you will travel to Nayapul before trekking through the valley, climping the stone stairs which lead to Chomrong (2000m), home of the Gurung, world famous for their mountaineering prowess along with the Sherpa. From there the track gets progressively whiter, snow covered areas dominating the scenery, warming up at local tea houses on your way to Annapurna Base Camp. The Annapurna Base Camp is an amphitheatre of dramatic peaks reaching for the sky. There are few words to describe the view – far better to experience it for yourself.
What our Volunteers have said
Testimonials