Volunteer Coordinator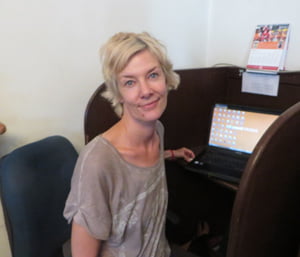 VIN's Volunteer Coordinator position is a position open for any international volunteer who would like to be a part of the management side of VIN. The Volunteer Coordinator's main job will be to receive the other international volunteers and basically see to it that they are appropriately placed in one of VIN's empowerment programs in accordance with their skills, personality, needs, and the resources available at hand.
You as the Volunteer Coordinator will be responsible to interview incoming volunteers, and with the help of our staff, train them and make sure they are prepared for their respective programs. You will also be required to go overlook the international volunteer's placement into the rural areas, or villages, or monasteries depending on the program they are in. This will give you the opportunity to see different types of communities in Nepal, which can be a fascinating experience.
This position and the experience entailed has been known to be a truly cross cultural one as the Volunteer Coordinator will be sure to meet people from all over the world, and have to communicate with them. Although this will be a challenging job, it will also be a gratifying one full of "firsts."
"I have worked with VIN for several months as a volunteer coordinator, which was a very fulfilling experience both for VIN as for me. It is quite a challenge to be a link between the Nepalese staff and the international volunteers, and be responsible for all organizational aspects, but it brings a lot of satisfaction when everything works out. A key point is proactively discussing with the staff and the volunteers in order to identify and solve different problems.
During this period I have learned a lot in dealing with different cultures (both Asian and western), and what development work really entails. I was able to see all the different projects of VIN, and their impact and benefits on the community. Spending some time in the office also meant that I was able to actively work on VIN's strategy, planning of activities and VIN's international exposure. Moreover I had a great time interacting with the international volunteers, some of whom became very good friends.
This role is also very important for VIN, because it brings the staff an opportunity to work on other important issues, since coordination of the volunteers takes up a lot of time. During my time I have succeeded in bringing the volunteers and international staff closer, and I tried making VIN more organized and better structured. I hope my stay here has had a sustainable impact on VIN, in making the organization function even better."
–  Wouter Raatjes The Netherlands, International Volunteer Coordinator 
Program Introduction
VIN regularly has 10 to 20 local and international volunteers working throughout our community programs in Jitpur, and other rural communities just outside of Kathmandu.
We require a coordinator to interview, recruit, reference, train, organize, and place these volunteers in the most appropriate way to ensure that they, and the communities in which they will be working, benefit greatly from the experience.
The volunteer coordinator will have ample opportunities to visit VIN's different working sites and volunteers. This will give him / her thorough ideas on program implementation for grassroots level organizations. This may be the right job for someone who would like to pursue a career in nonprofit organizations.
Helping us coordinate volunteers will also give him/her the opportunity to engage in cross cultural immersion as they will have to deal with different people from different nationalities and cultures. This job is sure to challenge the volunteer that takes it up. The coordinator has to be very flexible with regard to schedules and organized events. We encourage a long term (at least 3 months) commitment to this program.
Volunteer coordinator's role:
Recruiting, training, organizing and supervising volunteers;
Overseeing the volunteer induction period;
Designing and delivering training relevant to interests of the chosen program, including TEFL/ESL overview, health and safety overview, Nepali culture and language instruction (the team can assist with this);
Planning and scheduling volunteer placement relevant to need, skills, strengths and abilities of volunteers;
Communicating with partner organization/ community prior to placement
Ensuring volunteer targets are set;
Regularly contacting volunteers to ensure that they are satisfied with food and accommodation during placement;
Monitoring and reviewing volunteer workload and targets and adjusting when necessary;
Evaluating volunteer's experience at the end of placement;
Organizing regular interaction between different projects and volunteers;
Developing new volunteer program strategies;
Implementing a standardized working structure to enable VIN permanent staff to support volunteers in the absence of an international volunteer coordinator;
Developing links with the international volunteer community, including International Volunteer Sending Agencies;
Keeping up an updated volunteer database.
Skills, experience and qualifications
Experience of overseeing staff, delivering training and organizing workloads;
Fluent written and spoken English;
Willing to work with local groups or grassroots organizations;
Willing to coordinate volunteers;
Computer proficiency, including databases, spreadsheets and word processing skills;
Ability to work in a team – open communication, ability to establish good working relationships;
Strategic thinking and teambuilding skills;
Self-confident, focused, pro-active and result oriented;
Flexible attitude to constantly shifting work priorities;
Experience in designing training programs and organizing training sessions
Ability to manage personal workload, balance deadlines and manage competing pressures;
Knowledge of non-profit grassroots organizations;
Self-motivated team player with proactive, "get-the-job-done" mentality;
Excellent communicator as well as a leading supervisor for volunteers
Knowledge of non-violent direct action and development issues
Team membership
Work and communicate openly, effectively and co-operatively with all other team members;
Adhere to individual project deadlines and manage personal workload;
Respond to challenges, explore new ideas and take initiative in all aspects of teamwork;
Take full responsibilities for the completion of tasks as designated by VIN;
Work closely with different project staff to maintain team and volunteer spirit;
Project Summary
| | |
| --- | --- |
| Project: | Volunteer Coordinator |
| Start Dates: | 1st and 15th of each month |
| Language Requirements: | English (basic Nepali is provided) |
| Food and Accommodation: | Provided with a host family/guest house Nepali standard – rice, soup, lentils, vegetables |
| Key Activities: | training and supervising, coordinating volunteers, developing volunteer networks |
| Beneficiaries: | Multiple – VIN staff, volunteers, community members involved with VIN programs |
| Working Hours: | Sunday to Friday, 10am to 5pm / Flexible |
| Required Qualifications and Skills: | Fluent in written and spoken English, computer proficiency, excellent communication skills, experience designing and delivering training |
Other Volunteering Programs
What our Volunteers have said
Testimonials