Everest Base Camp Trekking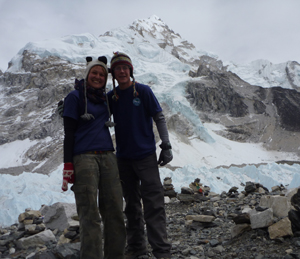 The Region
The Everest or Khumbu region is justifiably the most famous of all trekking and mountain regions. Populated by Sherpas, the attractions of this area are the majestic mountains, the high mountain villages, the isolated monasteries, and the local peoples. This area includes the highest mountain in the world, Everest at 8848m, and many of the world's 8000m peaks such as Lhotse, Cho Oyu, and Makalu. First climbed in 1953, Everest still holds a fascination for many, however the Everest region boasts many more spectacular and beautiful mountains, as well as some of the most rewarding trekking anywhere in the world.
Everest from Kala Pattar
The Everest Base Camp Trek
The Everest Base Camp trek is a classic trek which follows in the footsteps of Hillary & Tenzing and ends with an ascent of Kala Pattar for superb views of Everest. This trek starts with an exhilarating 45 minute mountain flight into the airstrip at Lukla. From here we trek slowly upwards to the Sherpa capital of Namche Bazaar, following the valley of the Dudh Kosi river. It is not long before we glimpse our first view of Everest as it peeks above the Lhotse-Nuptse ridge. At this point it is still many days walk away, but with careful acclimatisation it is not long before we find ourselves high up in the heart of the Khumbu region.
On the Everest Base Camp Trek we visit Tengpoche monastery en route before continuing on to our goal, an ascent of Kala Pattar, a rocky outcrop to the west of Everest. This vantage point gives fantastic views of the Ice Fall and South Col as well as the immense south-west face of Everest which was first climbed in 1975 by Chris Bonington's team. This is truly a classic trek which undoubtedly gives one of the best mountain views in the world. Accommodation and food is provided in the local tea house / lodges.
Everest Base Camp Trek Summary
Duration: 16 days Trek days: 11 days Hotel: 4 nights in Kathmandu Maximum altitude: 5545m
Dates: 1st and 15th of each month or customized dates
Price:$1,200
The EBC Trekking Program Price Includes
Airport pick up and drop off: International and domestic both;
Accommodation at budget hotel in Kathmandu;
Round trip flight fare for you to Lukla: $330 USD;
An experienced guide and a porter (shared with other trekker);
Your food and accommodation during the trek ;
Food (Breakfast, lunch, dinner) and accommodation for your guide, porter during the trek;
Salary, insurance for your guide and porter;
All trekking and climbing related fees as required
One day sight seeing in Kathmandu to world heritage sights; Patan darbar Square, Pashupati, Baudhnath, Swyambhu (monkey Temple.
Note: Sometimes bad weather in mountainous regions can cause flight delays. If you are delayed by bad weather prior to trek departure or end of the trek, you will cover your accommodation and food costs. If the delay is extended by two days it may be necessary for us to re-route the trek, perhaps to an area more accessible by road.
Unfortunately we cannot accept responsibility for charges incurred as a result of missed international flight connections. However we will help you to organize your ongoing arrangements. In this situation we would recommend that you make a claim against your insurance policy.
Prices Exclude :
Round trip international air fare to Nepal;
Food and accommodation if flights gets delayed due to bad weather before or after the trek days.
Extra personal expenses for food, water;
Entry Visa fees ;
Travel and medical Insurance;
Tips for guide and porter
Soft / hard drinks
Gifts for staff
Trekking with VIN review – Jacqueline Damen
The unique and beautiful Himalayas, dotted with its prayer stones, flags and wheels is a refreshing, magical place. Trekking to Everest Base Camp with VIN was a perfect end to my Nepal experience – two weeks of adventure after four weeks of living in a peaceful Buddhist nunnery. Already knowing some of other volunteers in the group, the trek provided an excellent opportunity to spend time with my friends, as well as form new friendships.
The guide of our group – besides being hilarious and overall a great guy – was extremely knowledgeable about everything we encountered on the journey. From the terrain to the birds, to the history and tradition surrounding the country through which we were travelling, as well as the best local spots to enjoy homemade rice wine and buffalo meat. His English was perfect, and he was a willing teacher of Nepali whenever we wished to learn.
The schedule was not overly exhausting, allowing ample rest and time to acclimatise to the altitude, as well as time to sit back and play cards at the end of the day whilst enjoying the scenery. There was also flexibility to the itinerary, allowing a detour to see the Yeti's head in a town just off the main trekking route. Regardless of the fun experiences and stunning scenery that the trek provided, most importantly, I always felt safe – it was clear that our guide kept the safety of the group as his highest priority.
The people of the mountains are friendly and accommodating. The tea houses where we stayed were clean and cosy, with wonderful warm meals that reenergised you after a day of walking. They also allowed time to meet other trekkers, who – after the usual introductory question "are you on the way up or down?" – you may inevitably meet again at the following day's destination.
The trek to Everest Base Camp is an achievement and experience that will remain with any traveller forever. Where else can you share a narrow suspension bridge with a yak, see a Yeti's scalp, or play Hacki Sack with a local child as you pass through their town? More than arriving at Base Camp itself, the climb to the peak of Kalipatar – whilst so strenuous and challenging – was the most beautiful and edifying experience I have ever had. To literally be on top of the world is an amazing feat – and when you stand atop Kalipatar there may only be a few others who – with their feet still on the ground – are closer to the sky than yourself.
Itineraries
| | | |
| --- | --- | --- |
| Day | Program | Altitude |
| 1 | Arrive Kathmandu, transfer from airport to hotel | 1300m |
| 2 | At leisure in Kathmandu, preparation for trek | 1300m |
| 3 | Fly to Lukla and Trek to Phading | 2800m |
| 4 | Phakding to Namche Bazaar | 3440m |
| 5 | Acclimatisation day in Namche | 3440m |
| 6 | Namche to Tengpoche | 3870m |
| 7 | Tengpoche to Dingboche | 4410m |
| 8 | Acclimatisation day in Dingboche | 4410m |
| 9 | Dingboche to Lobuje | 4930m |
| 10 | Lobuje to Gorak Shep, side trip to Base Camp (5360m) | 5160m |
| 11 | Ascent of Kala Pattar (5545m), trek to Pangboche | 3860m |
| 12 | Pangboche to Namche Bazaar | 3440m |
| 13 | Namche Bazaar to Lukla | 2800m |
| 14 | Fly to Kathmandu | |
| 15 | At leisure in Kathmandu | |
| 16 | Transfer from hotel to airport, fly home | |
What our Volunteers have said
Testimonials