Teaching English in Community Schools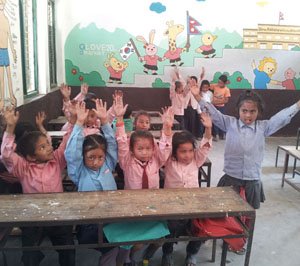 English Teaching in Nepali Community Schools Program targets international volunteers who are looking to take part in a hands-on, Nepali classroom experience. In these local schools, you as a volunteer will not only teach the English language, but will also engage in an effort to teach the children how to apply those language skills in various extracurricular activities.
VIN believes that by doing this, the children will have a better grasp of English and will be able to use what they know, in real life situations, where communication is core. With your help, VIN hopes to deliver the children and their local communities a crucial life skill: the English language. Acquiring this life skill has huge implications for Nepali, more that you might think. Knowing English is key to a more internationally connected Nepal, as well as opening the door for career opportunities.
 Problems Faced by Nepalese Migrant Workers
Out of a population of 27 million, over 4 million Nepali work abroad, in places such as the Middle-East and Malaysia. Since the year 2000 it is estimated that 10,000 have died abroad from a range of issues associated with poor conditions. VIN sees education as the key to empowering children to make informed decisions about their future and that of their country. The benefits of this knowledge is that it protects the individual, limits the very real risk of exploitation, and is conducive to positive progress.
What to Teach
In Nepal, each school has its own English teachers who may be available to assist volunteers with teaching methods, offer advice on solving communication barriers, or simply providing suitable curricula for the classroom. English teaching volunteers do not have to be native English speakers. During holidays and slow periods, volunteers can also help local teachers create teaching resources and design effective lessons plans, as well as co-teach certain lessons. This offers a new opportunity of learning and exchanging ideas on educational practice.
Due to the lack of resources and other disturbances, schools are often closed, sometimes for days at a time. Therefore, it is very important that volunteers provide English lessons after school, for groups of all ages, so that children can continue their studies as well as simply have something productive to do with their time. These classes also reach out to those in the community who cannot attend formal school, either because of financial difficulties or other responsibilities.
Project Summary
| | |
| --- | --- |
| Program: | Teaching English at Schools |
| Project: | Chidren's Development |
| Start Dates: | 1st and 15th of each month |
| Language Requirements: | English (Basic Nepali is provided) |
| Food and Accommodation: | Nepali Standard at host family in the working community |
| Key Activities: | Teaching English, organizing creative activities |
| Beneficiaries: | Children age 6 to 15, school teachers |
| Working Hours: | 3 to 4 hours a day / 6 days a week |
| Required Qualifications and Skills: | No formal training needed, flexible passion to work with children |
Other Volunteering Programs
What our Volunteers have said
Testimonials