Teaching English in a Buddhist Monastery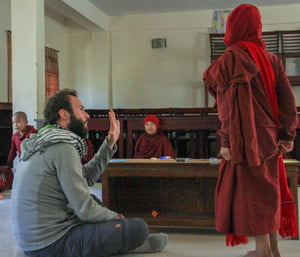 Teaching English in a Buddhist Monastery Project aims to ensure positive exchanges of culture, skills and knowledge between diverse cultures.  Are you fascinated by diversity in culture and practises? Are you keen on tasting Tibetan thukpa and chia (tea) in a monastic dining hall watching the sun rise behind the Buddha Shakyamuni statue? Do you want to teaching English in a Buddhist Monastery with a photograph of His Holiness the Dalai Lama overlooking the class? Want to experience life in a Buddhist Monastery with the monks and nuns?
Teaching English at Buddhist Monastery Nunnery volunteer/internship project gives participants a taste of life in a Buddhist monastery. This project looks forward to the exchange between members of a spiritual community, and overseas volunteers with one thing in common: the eagerness to learn. The overseas volunteers learn about Buddhist culture, Buddhist ways of life, Buddhist Dharma while the Buddhist monks and nuns learn about the world through English language.  The volunteers/interns not only to get experience the fun and authority being a teacher but also the humility of being student. English would be your field of expertise and Buddhism your field of apprenticeship. Did you know that more than 130,000 Tibetans Buddhists were sent in exile across India, Nepal and Bhutan? Today about 20% of them reside in Nepal free to practise their religion and build their cultural heritages. This program can also bring about many question your own ideals and what you truly value. If you are curious about the different schools of Buddhism, Mahayana, Hinayana, Vajrayana, Therevada, and so on, you will be given a chance to learn about them and understand the core beliefs of each.
WHAT WILL BE YOUR ROLE?
During your placement, you will live with the monks/nuns and indulge in their daily activities. You will be a tutor of English language and learner of Buddhism. You will help them learn basic English. You can organize creative and extracurricular sessions like singing, craft, yoga, painting, word games, sports and more. You may also share any other area of expertise you may have with the monks and nuns, such as knowledge of medicine, science, business or similar topics.
HOW WOULD A TYPICAL DAY LOOK LIKE?
| | |
| --- | --- |
| 07:00-08:00 | Tea/Leisure Time |
| 08:00-09:00 | Breakfast/Brunch (Nepali meal – Daal-Bhaat) |
| 09:00-10:00 | Preparation for sessions |
| 10:00-13:00 | Conduct classes |
| 13:00-14:00 | Lunch |
| 15:00-17:00 | Conduct classes |
| 17:00-20:00 | Preparation for next day/Leisure time |
| 20:00-21:00 | Dinner (Nepali meal – Daal-Bhaat) |
WHO CAN APPLY?
Anyone who has the desire to experience a new way of life is welcome to volunteer. Do you speak English? If yes, come and join us for this life changing experience that you will cherish all your life!
PROJECT AT A GLANCE
| | |
| --- | --- |
| Program | Teaching |
| Project | Teaching English in a Buddhist Monastery |
| Start Dates | 1st and 15th  of each month |
| Language Requirements | English (Basic Nepali is provided) |
| Food and Accommodation | Nepali standard at host family |
| Key Activities | Organizing yoga sessions |
| Beneficiaries | Children, Women and Community people |
| Working Hours | 4 to 6 hours a day / 5 to 6 days a week |
| Required Skills | Passion to sharing culture, Positive attitude, Excellent communication skills |
Other Volunteering Programs
What our Volunteers have said
Testimonials