Teaching English at Buddhist Monastery Nunnery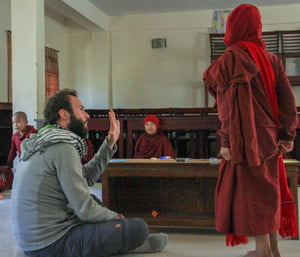 Volunteering at Teaching English at Buddhist Monastery Nunnery volunteer program is one that aims to give volunteers a taste of life in a monastery. This Teaching English Program aims for an exchange between members of a spiritual community, and overseas volunteers with one thing in common: the eagerness to learn. The  overseas volunteers learn about Buddhist culture, Buddhist ways of life, Buddhist Dharma while the Buddhist monks and nuns learn about the world through the English language.  The volunteers who are volunteering at Buddhist monastery – Teaching English at Buddhist Monastery nunnery, volunteers in this program not only to get experience the authority of a teacher but also the humility of a student. English would be your field of expertise and Buddhism your field of apprenticeship.
Tibetan Refugee Issue
There are more than 130,000 Tibetans Buddhists in exile in India, Nepal, and Bhutan; out of those, nearly 20 percent live in Nepal. Although they are now free to practice their religion and rebuild their cultural heritage, they still face the many problems expected for refugee populations.
 How Volunteers at VIN Help
Globally recognised education for Tibetan monks is a high priority but accessibility to it is their biggest challenge. Recently Tibetan Children's Villages (primary schools) – were established by the Tibetan community in Nepal. These schools support religious Tibetan practices and provide schooling in Buddhist philosophies. But more recently, many Buddhist monasteries have begun providing mainstream of education to cater for the societal needs of their pupils. VIN has facilitated formal education process to many monasteries. Our Teaching English Buddhist Monastery nunnery project's major goals for these monasteries & nunneries is to provide the education that prepares them for future. Some of the subjects in demand include English teaching and computer skills, but the requirements vary depending on the monastery. As a volunteer teaching English to Buddhist monks, you may teach English to monks and nuns (both children and adults). Volunteers can also organise games, painting, drawing, and other creative activities of their choice.
What to expect?
A unique aspect of this placement, volunteers will witness and participate in traditional Buddhist ritual practices as they take place in the monastery. If you are planning to volunteer during your holidays, or during a career break or gap year or even as a retiree – the opportunity is for you! While teaching English to Buddhist monks, you will gain an insight into the day to day workings of Buddhist culture, morning prayer, meditation, Buddhist philosophy etc. Teaching English to Buddhist monks program has been especially designed for volunteers interested in immersing themselves in authentic Buddhist culture.
Which Monasteries?
Our affiliated Buddhist monasteries and nunneries on the outskirts of the Kathmandu, Pokhara and Lumbini take in applicants for periods of one to five months, though longer stints are of most benefit. During longer stints it is even possible to create a constructive curriculum for the monks. Monks share their philosophy and culture with the volunteers as far as their English skils allow them to. Volunteers will have access to a small library of Dharma (religion) books and can join in the monks' practices and ceremonies.
Additionally, there will be many pilgrimage sites in and out of the Kathmandu valley that may be visited: Namo Buddha, Boudhanath, Lumbini (Kapilvastu) and Swayambhunath, Pashupatinath, Patan Darbur Square, Changunarayan are just a few in the long list.
Some Monasteries like Karma Lekseling, Karma Samte ling, Oseling are located nearby on a hill overlooking the stupa and the entire Kathmandu valley. Swayambhu stupa (monkey temple) lies in the East of Kathmandu and, being over 2500 years old, it is one of the most ancient Buddhist sites in the world and one of Kathmandu's main attractions. Volunteers will live within the monastery while teaching monks, providing a unique opportunity to become a real part of the monastic community and its spiritual environment. This program can also bring about many question your own ideals and what you truly value. If you are curious about the different schools of Buddhism, Mahayana, Hinayana, Vajrayana, Therevada, and so on, you will be given a chance to learn about them and understand the core beliefs of each.
What to Teach?
Primarily we assign volunteers to teach English language. However the volunteers are welcome to teach any of their knowledge about mathematics, the sciences, medicine, computing, etc. Most of the monks have solely been educated in Buddhist subjects and would greatly appreciate the teaching of any new skills, for example, business skills which allow the monastery to operate and thrive within a global context. Knowledge about the Western world, especially the English language which continues to become more and more important in any and all domains, will enable the monks to impart their Buddhist expertise to Westerners or can become a global teachers. The program's focus is thus on the exchange of spiritual and secular knowledge from which both sides will benefit, monks as well as volunteers.
Before volunteers leave for the site, they will be given intensive Nepali language and cultural  and health classes, as well as a teaching orientation. They will also be taken to the holy sites around the Kathmandu Valley. After the program orientation, the volunteers will be ready to live in a monastery while teaching monks.
Monastic life is very different from what you would think as you are thousands of miles away. The schedule is pretty flexible. They usually do not inform people in advance on what is going to happen and sometimes you may find out last minute that your class has been change or even replaced by Buddhist rituals! There will be many festivals, rites and visits during your stay in the monastery in Nepal. Run as they run and try to be proactive in planning fun and creative activities to teach monks. You should therefore be very flexible. If at some point there is a larger gap in the schedule than you expected due to various reasons, you may go to VIN's main working site, Jitpur Phedi (10 to 15km away from the monastery) and work for children and women's clubs, teachers and early childhood development centres. You may enjoy working with these disadvantaged people as well.
Financial Transparency at VIN
Please note that a portion of the program fee you pay goes to our central community projects. It is a win-win situation for volunteers, partner monasteries and VIN. Volunteers get an organized placement, Buddhist monasteries and nunneries in Nepal receive volunteer teachers and funding support for their children's education and VIN develops its network and receives funding that may be used to improve conditions for the disadvantaged rural communities of Nepal.
Interested?
Are you interested in experiencing different cultures? Are you keen on tasting Tibetan thukpa and chia (tea) in a monastic dining hall, seeing the sun rise behind the Buddha Shakyamuni statue and teaching English with a photograph of His Holiness the Dalai Lama overlooking the class? Want to know what life teaching monks and living among them is really like? Then join a Buddhist monastery today with VIN, your family in Nepal.
Find out for yourself and join hands with VIN. VIN has been the #1 volunteering organization for Buddhist monastery placements. Apply now to join our Buddhist monastery voluntary projects in Nepal.
Project Summary
| | |
| --- | --- |
| Program: | Buddhist Monastery & Nunnery |
| Project: | Teaching English at Buddhist Monastery & Nunnery |
| Start Dates: | 1st and 15th of each month |
| Language Requirements: | English (Basic Nepali is provided) |
| Food and Accommodation: | Nepali standard at the monastery / Nunnery or host family |
| Key Activities: | Teaching English, organizing creative and fun activities, sanitation & environment work, teaching physical exercises |
| Beneficiaries: | Monks / Nuns age bet 6 to 30 |
| Working Hours: | 3 to 5 hours a day / 5 to 6 days a week |
| Required Qualifications and Skills: | Teaching, Passion to sharing culture, flexible |
Other Volunteering Programs
What our Volunteers have said
Testimonials