Office Administration and Human Resource Advisor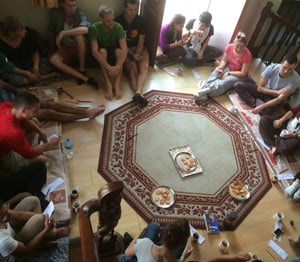 VIN's office administration program is suited to volunteers wishing to experience the inside machinations within our organization. This position allows volunteers to use administrative abilities and language proficiency to help the office branch of VIN. Assisting in the office enables our other professionals to reach communities to perform follow-up checks, progress evaluations and data collection. Opportunities to visit the communities that you will be helping will be available, as well as working alongside friendly colleagues from Nepal and abroad.
Program Details
VIN's office Headquarters is based in Balaju, Kathmandu. This is where the Volunteer Office Administrator is stationed, working alongside the other 5 full-time office-based staff.
This is from where all of VIN's programs are run including:
Women, Children, teacher and Youth Development
As an office administrator fluent written and spoken English is needed to assist in office administration; to review and improve procedures and ensure all VIN documentation is up to date as well as grammatically correct.
The Role of Volunteers
Editing website content
Writing and publishing VIN newsletters
Updating VIN data, program accomplishments, and activities
Tracking volunteer placements on spreadsheets
Handling outgoing emails on behalf of VIN
Book-keeping
Fieldwork data entry
Preferred Qualifications
Fluent spoken and written English
Knowledge of Microsoft word and excel
Ability to write clearly and succinctly, paying close attention to detail and grammar.
Previous administration experience useful, but not essential.
Achievements so Far
Achievements made to date in this role include assisting the re-designing of the VIN website and brochure (including checking and redrafting of the content); production of information sheets/announcements; advice on procedures and the re-launching of the sponsorship project. But there are always numerous administration aspects which can be improved upon, by a dynamic and conscientious volunteer.
This role is ideal for those hoping to gain insight into the administration of a grassroots NGO/ volunteer organization but also suitable for candidates wishing to volunteer whilst traveling or on a career break.
 Project Summary
| | |
| --- | --- |
| Program: | Management and Administration |
| Project: | Office Administration and Human Resource Advisor |
| Start Dates: | 1st and 15th of each month |
| Language Requirements: | English (basic Nepali is provided) |
| Food and Accommodation: | Provided with a host family / guest house – Nepali standard: rice lentil soup, vegetables etc |
| Key Activities: | Proof reading, reviewing and editing all VIN documentation, including website text etc. |
| Beneficiaries: | Multiple – VIN staff / volunteers / community members involved with VIN programs |
| Working Hours: | 10am to 5pm daily, Sunday to Friday |
| Required Qualifications and Skills: | Sound computer skills, including Microsoft word and excel; fluent spoken and written English; good writing skills and grammatical knowledge |
Other Volunteering Programs
What our Volunteers have said
Testimonials