Home
» »
News Update
» » Forty youths oriented about employability skills to fight against unemployment
Forty youths oriented about employability skills to fight against unemployment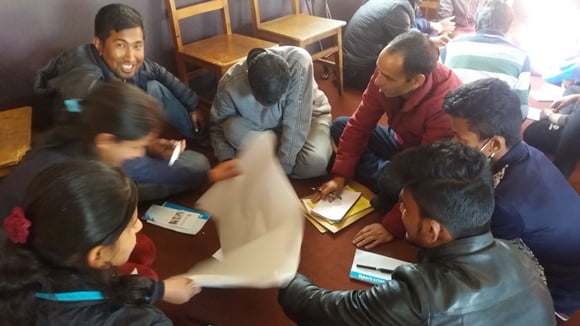 Group discussing about employability skills to fight against unemployment
Dissemination event was organized by Volunteer Initiative Nepal (VIN) at Milandharmesthali School at Kavresthali on 12th  December 2017 to discuss different employability skills to overcome youth unemployment.
The main objective of our program was to find out the needs of youth empowerment program at Kavresthali community. At the same time, we aimed to discuss about different employability skills through video display, group discussion and presentation so that community youth would be familiar with these skills which help them to get employed in the near future. Around 40 young males and females participated in the event. They were interested as well as curious in our topic and actively discussed about their quieries related to the topic. They were satisfied with the program and expect similar programs to be organized in near future.
The event commenced with the introduction of organizer and participants. Firstly, there was presentation on CHARGER, it's phases, International training, youth exchange as well as Youth Empowerment Possibilities at Kavresthali community. Altogether 40 young males and females participated in the event. Then, the participants were divided into 4 groups and two groups were allowed to discuss on the topic i.e. needs and challenges of youth empowerment program at Kavresthali community whereas two groups on the topic i.e. necessity of employability skills. The leader of each group gave the presentation about opinion of group members on the topic. From this group discussion, we come to know that the necessity of active youth clubs to mobilize youth in community development, skillful training like beautician, plumbing, tailoring, electrician, organic farming, animal farming etc to empower youth, utilization of local resources for establishing local industries at the community.  Some participants pointed out lack of vocational education, computer skills, leadership quality, communication skills, job related training, other skillful and income generating training etc to get employment at that community. Also, political instability, lack of resources, lack of experience, low economic condition etc were the challenges for youth employment. We encouraged all the participants to involve in volunteering activities for community development through which they can also gain employability skills like leadership ability, communication skills, team work, confidence build up etc.
What our Volunteers have said
Testimonials