Women Empowerment Project in Okhaldhunga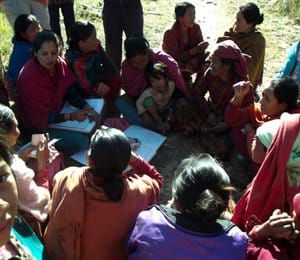 wowomen empowermentmen empowerment
Volunteers Initiative Nepal (VIN) has been running Women Empowerment Project as one of the major project in Taluwa, Okhaldhunga since 2013.
The main aim of the project is to empower women Taluwa VDC making them capable in earning & saving, living healthy life with leadership capability. For achieving those objectives VIN has already provided training on health issues like health and sanitation, training on breast cancer, uterine prolapse and first aid.
'Taluwa Women Multipurpose Cooperative' is already registered in support of VIN. Now women have started saving some money and taking loan for doing small business. The cooperative was registered by their own initiation and board of directors are women themselves. Altogether there are 340 members in the cooperative and one women staff.
Meanwhile women are also provided with different life skill trainings on cheese making, manual filter making and women right.
For empowering women of this remote place there are so many other projects in pipe line. Hope women of such place like Okhaldhunga get empowered and could live their live on their own.
What our Volunteers have said
Testimonials