Home
» »
News Update
» » VIN announced Thulachhap VDC, Okhaldhunga as open defecation free zone
VIN announced Thulachhap VDC, Okhaldhunga as open defecation free zone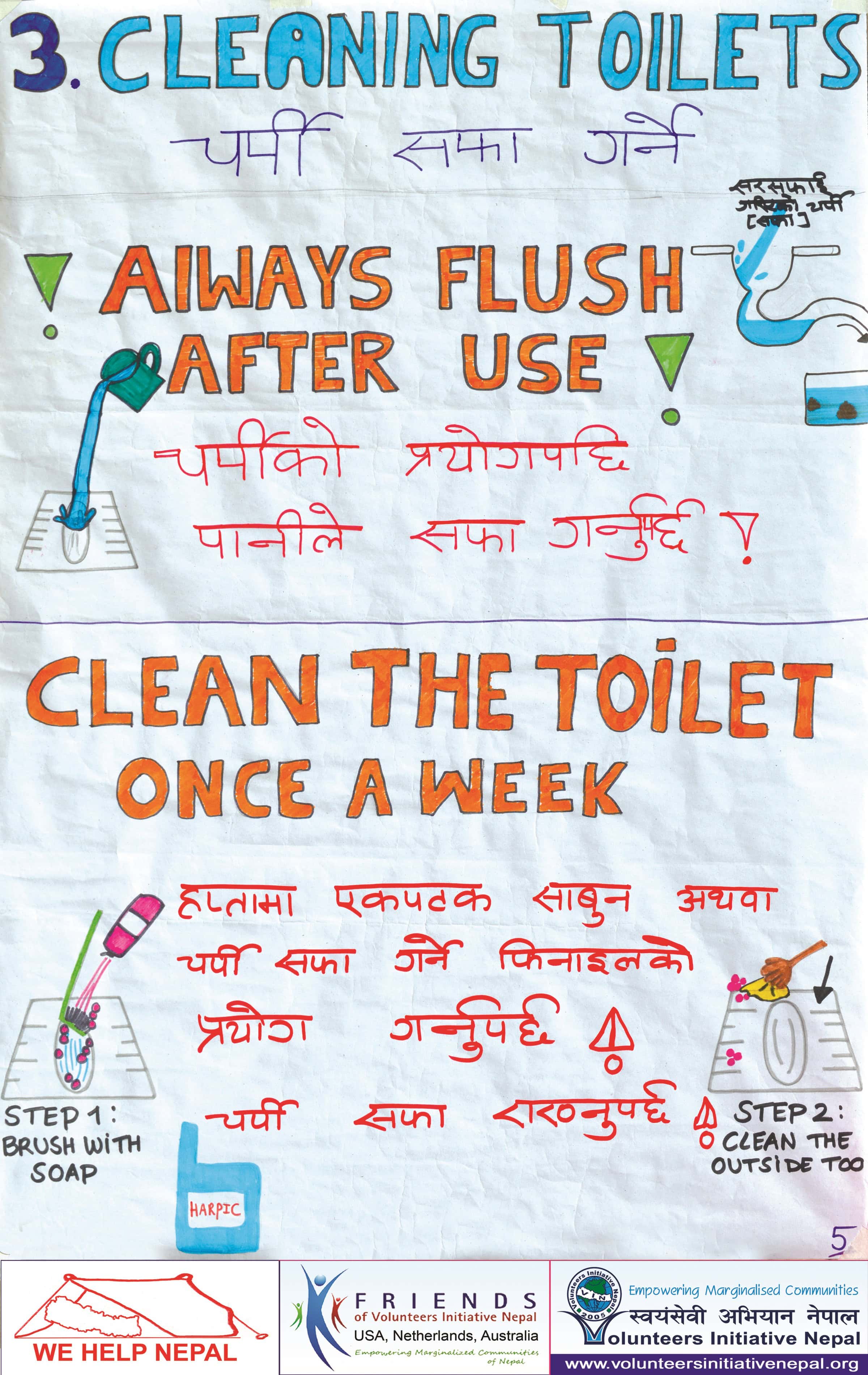 Cleaning toilet pamplet
VIN has successfully announced Thulachhap VDC, Okhaldhunga as Open Defecation Free zone on 9th July 2016. The VDC was announced ODF zone in a program attended by about 150 participants of the VDC, representatives of major political parties, CBOs and also other chief officials. After the earthquake, VIN had been constructing toilets under post-earthquake WASH project. VIN constructed toilets for 617 households of Thulachhap through post-earthquake WASH project. Out of 853 households, VIN constructed communal toilet for 30 households who could not afford to build toilet in the individual level. VIN had announced Taluwa as ODF zone last year. This year Thulachhap has been announced ODF zone in a short time of six months only.
Announcing Thulachhap VDC as ODF zone has been one of the biggest achievements of VIN so far. This success is a major move for proper hygiene and sanitation of the whole community. The villagers seemed to be satisfied for the contribution made by VIN under the post-earthquake WASH project for helping them to maintain their healthy life. Besides announcing the area as ODF, VIN's local facilitators, staffs and the organization itself was honored with certificates, cash and Token of Love.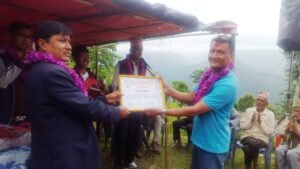 The earthquake had turn everything into a pile of rubble. Many people and animals lost their life. The earthquake did not just cost lives but the aftermath shows it started costing their health as well. People did not have a proper shelter to live in and it naturally made them to worry less about the toilet, health and sanitation issues. But this was going invite a major problem in the near future. Sensing this at the earliest, VIN started its post-earthquake WASH project in the Thulachhap VDC. Under this campaign, toilet construction was the major concern as VIN wanted to stop people from open defecation that was inviting major health problems. At the first stage, VIN conducted awareness programs. Different posters were patched around the village and various meetings were conducted to convince the people regarding importance of having a toilet in every household. And they were even trained for the project.
While VIN started the toilet construction, there was a blockade over Nepal. VIN had a difficult time supplying materials for the construction. But still the construction never stopped. The enthusiasm to reach the sanitation goal progressed the work. The locals were trained on how to construct toilets. The toilets were constructed on the basis of the design prepared by VIN. Each family was provided with 2 cement sacks, 15kg rod, two pipes of 2 meter length with 90mm and 32mm each, 3 tins of 9ft. each, 200gram binding wire and 250 grams nail. VIN did not just limited itself for conducting awareness campaign and providing materials, it also went for follow ups to know if the locals were constructing toilets properly. It was a pain taking job for sure but the locals were very well motivated for the work and finally Thulchhap has been open defecation free zone.
What our Volunteers have said
Testimonials