Home
» »
News Update
» » Orientation on women trafficking, domestic violence and women right in Jitpurphedi community
Orientation on women trafficking, domestic violence and women right in Jitpurphedi community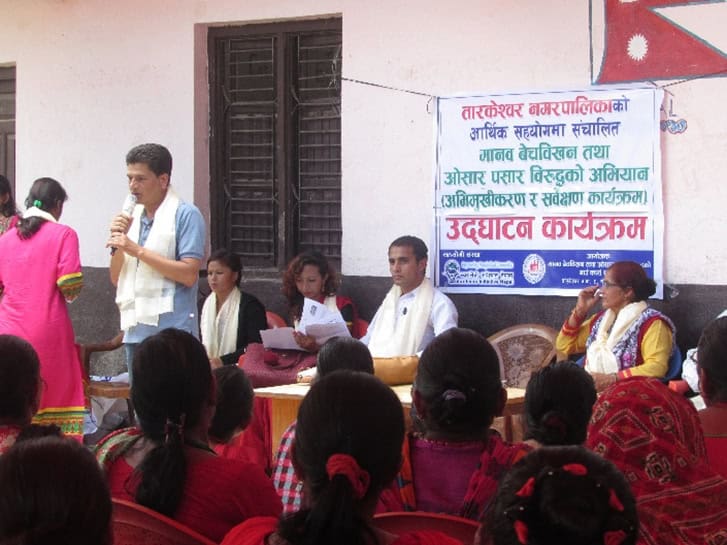 inaugration program organised by VIN
Jitpurphedi's women Agriculture Co-operative organized an orientation program on women trafficking, domestic violence and women right for Tarkeshwor municipality ward 7 and 8. The orientation was under the women empowerment program for the women of the area. The project was started with an agreement between Jitpurphedi Women Agriculture Co-operative and new formed local level committee.
These project against human trafficking, domestic violence and women right began after agreement with Jitpurphedi Women Agriculture Co-operative and newly formed local level committee. These project were to be implemented by the partnership approach of government and the community contribution. From the side of community, VIN helped in those program for women empowerment. The main objectives were to inaugurate program among big mass for giving formality of women empowerment and human trafficking and to raising awareness among people regarding women right, violence and trafficking. Activities like; program inauguration, orientation on women right women trafficking and speech from different were included in the program.
The women right, trafficking and violence are part of VIN's women empowerment initiative. For this program VIN had supported on co-ordination for project with municipality office, program management, and participant management and other technical support etc. Municipality ward secretory inaugurated whole program by opening the banner with objectives of program. After than different political parties representative wished to successful the program and gave commitment to help them for program implementation. Advocate Kumari kharel ,Change Nepal representative Dhanmaya Balami and Barsa Luetel  gave orientation them about what is women right, violence and trafficking, what is the relationship between women trafficking and domestic violence and how to control trafficking and violence etc. That program was lunching as interactive way so women were directly raise question to facilitators on violence, right and trafficking domestic violence. There was over 300 women in the program and gathered women hear different information from government officials and passionate advocates to learn more about women trafficking domestic violence and women right.  Education and awareness is a key component in preventing human trafficking and domestic violence. Women were very happy from the program.
What our Volunteers have said
Testimonials