Organic farming training in Kavresthali community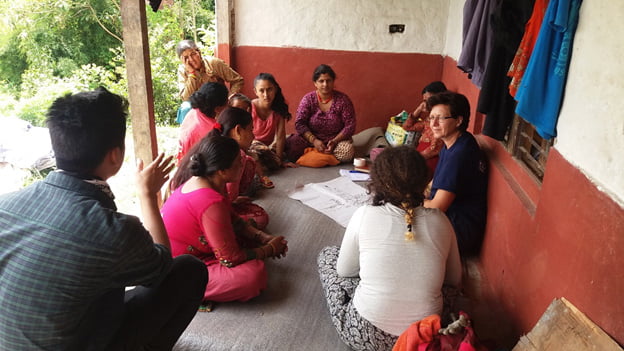 VIN volunteers giving training on organic farming
Agro-farm project is one of the project run under VIN's environment and conservation program. Agro-farm means agricultural systems that promotes the environmentally, socially and economically resonance production of food. By respecting the natural capacity of plants, animals and local conditions, it aims to optimize quality in all aspects of agriculture and the environment. VIN is focusing to implement organic farming system in working side so there is mobilization of volunteers to do organic farming. For developing good farming system there were conducted one day organic farming training in two different communities of Kavresthali. The main objectives were, to manage land effectively and develop best practices of organic farming, to improve the quality and fertility of the soil and ensure the water resources to remain clean, to control pests and diseases without harming the environment and human health, to preserve the environment and plant diversity for future generations to come.
The international volunteer conducted organic farming one day training in two different communities for women farmer. Organic farming is a very eco-friendly way of farming. It is said that organic fertilizers that consist of no harmful chemicals are much preferable compared to compost. For a proper conditioning of soil in an area proper rotation of crops is quite necessary as changing the type of plants per season allows the soil to gain proper structure and helps in growth of plants in next season. For proper usage of organic farming compost manure is necessary which supplies soil with proper nutrition. It improves the structure of soil and favors proper water circulation. As good soil optimizes the resistance towards growth of plants and they are much resistant to diseases and insects. The organic waste materials should be aerated.
In this process the soil is perforated with small holes that allow air, water, nutrients to penetrate the roots. It greatly helps in alleviate the soil composition. In order to aerate, turn, mix is essential because microorganism's decomposers need oxygen + maintain a sufficient porosity + accelerate of decomposition. Compost usage should be started when certain signs like homogenous appearance, dark color, and pleasant smell of forest soil can be seen and felt. It takes around 3-12months to have good compost. Compost must be used as mulch and not manure.  It should be used before planting mixed with ground in surface of soil and not more than 10cm.
Women are happy from VIN's contribution in agro-farming training. More than fourteen families were benefited from organic farming training in Lamichhanegaun and Thaligaun, kavresthali.
What our Volunteers have said
Testimonials