Teaching the Deaf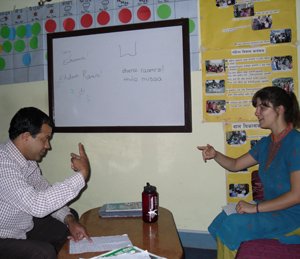 VIN's Working with Deaf and Disabled people volunteer program aims to give the disabled people of Nepal a better shot at quality education. For too long now Nepal's educational system has neglected the special needs of these kind of people who end up dropping out of school due to the lack of attention that has been given to them. VIN aims to provide deaf schools with volunteers like you, who may be a part of the advancing literacy program that is being established.
You as a volunteer will be placed with a local family and will spend your days, in these deaf schools, teaching English. It would be most suitable if you were fluent or have some background in sign language, however, if you do not, there will still be many other ways in which you may be a helping hand within the school system. You will have the opportunity to set up workshops, field trips, health/sanitation sessions, and various other things. VIN highly recommends this program as it is a direct means to change lives.
Volunteer in Nepal, and experience the culture of this diversified country firsthand in a meaningful way. In partnership with different deaf and blind schools, VIN is seeking experienced deaf educators who are fluent in sign language as well as volunteers without signing abilities. Volunteers will work directly with deaf schools and programs to improve educational facilities and opportunities for the deaf community in Nepal. If you have experience in this area or have an interest in aiding the deaf community in Kathmandu, Nepal, we welcome your participation.
VIN's mission is to develop self-sustaining cycles of deaf education and leadership skills in developing countries through advocacy, multi-cultural exchange, and mentor support. These cycles will assist Deaf people around Kathmandu valley to increase their social and economic self-sufficiency.
VIN's deaf education program is an intensive literacy program with the goal of teaching English reading and writing skills to deaf children in Nepal. Due to the poor deaf education system in Nepal (either the teachers are under-trained in deaf education and sign language or there are no teachers at all.) most deaf students leave school with less than a 5th grade reading level. In order to enter college or attend a teacher training program, deaf students must pass an entrance exam. VIN's program aims to help more deaf adults get into college and to put more deaf teachers in deaf schools all over Nepal.
Volunteers stay with a local family, while spending 6 hours a day at the facility. Volunteers typically assist caregivers, and provide more education on care methods where necessary. Volunteers also work with the children to provide assistance with therapy, activity preparation, education on basic health and sanitation, academic assistance, and general care. You can also help to plan for sightseeing, picnics, cultural sharing, story readings and promotion of the love of reading, conversational English with the children, tutoring sessions for homework etc. The need and regularity of each activity will depend on the children's abilities. Based on experience and skills, volunteers may provide vocational training, be a part of the Income Generating Program and Recreational Activities-Audio-Visual aids, as well as participate in playing sessions, music related workshops and games.
Eligibility: Individuals with fluent sign-language skills are needed to help as tutors for the deaf. Participants with little to no signing abilities are also needed to help facilitate the program.
Orientation: Upon arrival in Kathmandu, volunteers are received at the airport and taken to their accommodations. They will receive an orientation that will familiarize them with the town and the surrounding area; the Nepali culture, as well as their program.
Once the placement begins, participants will receive an additional mini-orientation at the program site that focuses on program opportunities and responsibilities.
 Condition of Deaf children
Most of the disabled individuals in Nepal are ignored, neglected and a majority are mistreated by their own families who believe they have lost status in the community because of them. Many are locked up in dark rooms where they cannot be seen, or are disowned and left on the streets to beg. These people have no rights. VIN offers interested volunteers from all over the world a chance to provide great support to the disabled children in Nepal. VIN has been working closely with care facilities in and outside of Kathmandu valley which have specialized care units for these children.
 More about disabilities
Volunteering for people with disabilities, will show you the true nature of their hardships and make you a part of their struggle. You will become more of a humanitarian being. Working at the deaf schools will not only allow you to make an important contribution to the education of the students, but also provide the opportunity to gain knowledge about the deaf community in Nepal and learn Nepali Sign Language.
Contrary to popular belief Sign Language is not universal. Each country has its own Sign Language. In fact, even within a country signs may differ from region to region, much alike an accent or dialect. Currently there are 182 different Sign Languages including dialects and sign systems. Within Nepal, Sign Language is relatively new. Given that a large number of the population in Nepal is deaf, and most live in rural areas without access to education or Sign Language training, it is difficult for deaf students to get a proper education. Even at deaf schools there is no curriculum designed for deaf students. However, deaf students are eager to learn and warmly welcome a chance to improve their skills, especially in reading and writing English. When working at the school it is possible to teach many different subjects or skills from English to art to dance.
When choosing to work at the deaf school, you must prepare yourself to be patient, friendly, willing to learn Nepali Sign Language, and willing to enter a completely different world of signs and silence. Teaching there can be a challenge due to the mix of the languages being used (English, Sign Language, Nepali, and any other language you bring as a volunteer). However, it can be a wonderful opportunity to work closely with the deaf community, help the students improve their skills, and also grow individually as you learn a new way to think and live in is a world without sound.
Project Summary
| | |
| --- | --- |
| Program: | Teaching |
| Project: | Teaching the Deaf |
| Start Dates: | 1st and 15th of each month |
| Language Requirements: | English (Basic Nepali is provided) |
| Food and Accommodation: | Nepali Standard at host family in the working community |
| Key Activities: | literacy program with the goal of teaching English reading and writing skills to deaf children in Nepal, help more deaf adults get into college and to put more deaf teachers in deaf schools |
| Working Hours: | 6 hours a day |
| Required Qualifications and Skills: | Individuals with fluent sign-language skills are needed to help tutor deaf teachers. Participants with little to no signing abilities are also needed to help facilitate the program. |
Other Volunteering Programs
What our Volunteers have said
Testimonials