Early Childhood Development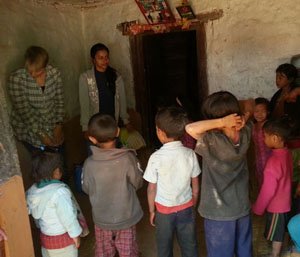 "Learning starts from right at birth. Child Care at the Early Childhood Development (ECD) program fosters a congenial learning environment for children of 3 to 5 years of age to develop motor, mental, social and emotional skills."
 VIN's Mission for Early Childhood Development
At VIN we believe in lasting change, therefore it is vital that we invest in our young children for the Nepal of tomorrow. Due to the isolated nature of Nepalese mountain villages, institutions such as local schools are still inaccessible for many children. As a result many children lack basic communicative and social skills. VIN therefore aims to equip school-based Early Childhood Development (ECD) centres and for the first time, provide effective education institutes for the Nepali in rural areas. At VIN we believe in creating an engaging program, since we feel that learning should be fun. With teachers we discuss how to make creative and engaging classes for children. Additional support comes in the form of curriculum which was written in partnership with our partners in Sustainable Learning from the United States. 
Issue Nepal is Facing
Issue Nepal is FacinAlthough we hear "encouragement" of Early Childhood Development from a seemingly confident government, on the ground their intentions have not matched outcomes. While some regions in Nepal may appear to have access to ECD centres the reality is that many regions lack the qualified teachers and materials to run them efficiently. VIN first initiated a community based Early Childhood Development Centre (ECD) at Panchmane Community, Jitpur, Kathmandu. We have, on average, 16 to 20 children each year; between 4 to 6 years of age, benefiting from this program. We have constructed a 3 room building in partnership with the community and equipped it with child friendly furniture and materials. This centre has been established in partnership with the government District Education Office. Now VIN funds and runs over 30 Early Childhood Development centers (ECD) in the outskirt of Kathmandu, Okhaldhunga and Nuwakot.
Achievements
VIN now supports over 30 early childhood education centres in schools and communities in impoverished Nepalese communities. VIN estimates equipping each centre on average will cost $700, but with our partners' help we can continue to establish more centres around Nepal. Individuals or organisations interested in lending a helping hand are greatly appreciated. Support from abroad or directly become a part of this empowering project!
"After VIN's orientation to the ECD parents, now our kids are neat and clean and most of the children are bringing lunch from their own homes"
Gopal Gajurel, Principal teacher of Kalikasaran Lower Secondary School
 How Can I Help?
Assist local teachers.
Teach children motor and kinaesthetic skills.
Play games and rhymes with children.
Supervise sports activities.
Provide child care support.
Create teaching/learning resources.
Organise student excursions. 
Who can apply?
Anybody who has a strong interest in supporting children from the most marginalised communities and who enjoys working with young children. Prior experience in Montessori or early childhood education methods will be an advantage. Lacking confidence? Not to worry, VIN provides an orientation course for participants before any placement ensuring a smooth transition into the classroom.
More about ECD Program
Aspects of Children's Rights Addressed:   Right to Education, Right to Development & Right to Participation
Problems Addressed  
Teachers not being able to adopt child friendly teaching/learning approaches in ECD classrooms, which can negatively impact the overall development of children in their early years.
Related parties (parent and school management) are not always aware of early childhood development education needs and practices, hence are unable to satisfy them. 
Objectives by 2015  
Improved access for all children (3-5 yrs) to the Early Childhood Development (ECD) Program in VIN's working communities.
Improved results of ECD children in school by overall development of motor-neuron, mental, emotional and social skills.
 Expected Result
Increased knowledge and behaviour change of parents of children aged 3-5 on ECD and hygiene.
All children from VIN's working catchments of 3 to 5 years of age attend ECD programs.
Strengthened management capacity of Management Committee of ECDs, demonstrating an increased accountability mechanism towards ECD stakeholders.
Increased knowledge and practical experience of ECD teachers on Child Friendly Teaching & Learning Approaches.
ECD Curriculum and guidelines for ECD teachers developed and implemented.
Major Activities:
Raising awareness of parents of 3-5 year-olds on developmental needs of children in their early years and practices to address, achieved through orientation briefings and mass awareness raising campaigns.
Supporting school/community based ECDs to strengthen their management and resource-oriented skills for autonomous functioning by 2012.
Training of ECD teachers on ECD teaching (basic to advanced level) and development of local materials.
Training of ECD Management Committees on how to manage ECD centers effectively.
Designing a standard format of guidelines and ECD activities applicable to all VIN facilited ECDs and ensuring its implementation as well as monitoring its progress,
Significant Achievements to Date:
In 2008, VIN established a community-based ECD Center at Pachmane with the help of the Community and District Education Office.
From 2009, VIN started to work with school-based ECD Centers. Four Schools were supported with matching funds (1:2 ratio) to establish ECD Centers with child-friendly seating arrangements and educational and play materials. The ECD teachers were trained on ECD teaching/learning approaches in the same year by local staff and international volunteers.
Matching funds support to establish ECD Centers was extended to eleven more public schools and ommunities in 2013. Similarly, the community-based ECD center received support to construct its own building and make their classes more child-friendly. The VIN established ECD center has now 3 child friendly rooms.
The school-based ECD centers were further strengthened with the supply of more educational and play materials.
VIN set up 11 more Early childhood education centers in Taluwa Okhaldhunga – developed curriculum, trained teachers and ewuipped the centers.
Assessed the possibilities to set up 18 more centers in Thulachhap & Bhadaure VDCs of Okhaldhunga in 2013.
Focus for 2014 and 2016
Efforts will be made to form a separate management committee for school-based ECD Centers and give them basic management tools and techniques for effective functioning and sustainability.
Far-reaching outreach campaigns will be brought into operation to identify and counsel parents of current and potential ECD Center students on the needs of children in their early years, importance of ECD education and hygiene.
The current ECD curriculum will be revised and made upto date in participation of ECD teachers & stakeholders, and its effective implementation will be enforced with regular monitoring and periodic meetings with teachers.
Capacity of ECD teachers will be developed through training, interaction programs and workshops on ECD teaching, development of local materials, effective implementation of ECD guidelines and designed activities.
 Challenges and Concerns:
A major challenge of this project is making the ECD management committee and the teachers more accountable of the children. The effective implementation of ECD guidelines and activities and also the training given to ECD teachers might be especially challenging. This can be overcome with regular monitoring and by motivating the beneficiaries involved, which is a responsibility that largely falls on the part of VIN.
Project Summary
| | |
| --- | --- |
| Program: | Chidren's Development |
| Project: | Child Care: Early Childhood Development |
| Start Dates: | 1st and 15th of each month |
| Language Requirements: | English (Basic Nepali is provided) |
| Food and Accommodation: | Nepali Standard at host family in the working community |
| Key Activities: | Organizing creative and child friendly activities, teaching, arts, musics |
| Beneficiaries: | Children age 3 to 6, local volunteers, teachers, parents, overseas volunteers |
| Working Hours: | 4 to 5 hours |
| Required Qualifications and Skills: | Keen interest to working with children, skills to perform above mentioned activities |
Other Volunteering Programs
What our Volunteers have said
Testimonials