Home
» »
News Update
» » Public speaking technique for women's group member in Kavresthali community
Public speaking technique for women's group member in Kavresthali community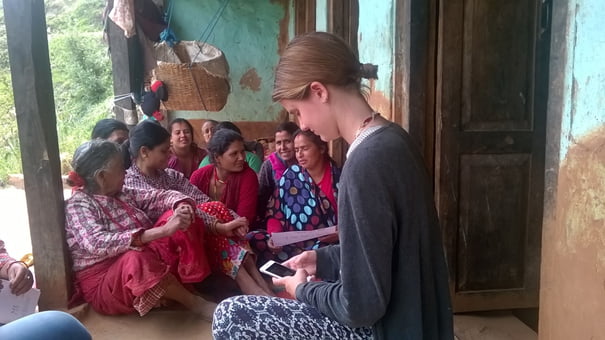 Public speaking
Since March 2017, VIN's team has implemented a Women Empowerment program in Kavresthali community. The goal of that program is to empower the women economically and socially through different kind of workshops including life skills lessons, income generation initiative, entrepreneurship development, microcredit and research.
In Nepal, a lot of women doesn't have the feeling that they can fight for their rights because of their lack of education. Through the life skills lessons, the women empowerment's team try to provide them with some skills that could make them more self-confidant to defend their rights. In that way, during the months of March and April, some volunteers organized Public Speaking workshops in Kavresthali. The objectives of this class were to enables the women to speak assertively and to give them advices to speak in public with self-confidence.
During the theoretical part of the lesson, the volunteers explained the importance of assertive communication. Then, they gave different tips to the women to prepare and realize a good public speech. Then, during the practical part, the volunteers asked the women to work in pairs and to prepare a speech on specific topics. The pairs had to speak about the advantages and disadvantages of "living in Nepal", "being involved in a women group", "living in the country side", "living in the city" and "being a farmer". This exercise enables the women to apply directly the advices that they just learnt and to notice the good and bad things to do while they speak in public.
The Public Speaking lessons were each time constructive moments. The women were helping each other to do the best speech as possible. Also, they learnt during the lesson the importance of being a good audience. They understood that it is difficult to speak in front of other people and, during the next lessons, they were more respectful when someone was speaking. We hope that, with practice, this workshop will help them to fight for their rights and improve their situation within the community.
What our Volunteers have said
Testimonials