Mitchell Ryan Young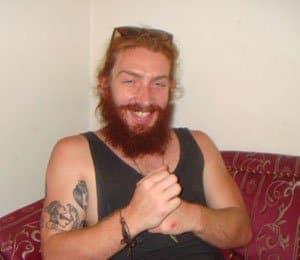 From 15/06/2014 to 27/07/2014
My name is Mitch Young, I am a twenty year old student from Australia, during my winter break I decided I would visit Nepal for a few months. So I spent June-August 2014 in Nepal. My motivation was volunteering at a Buddhist monastery, the very concept of being able to do that was just amazing. Initially it seemed to good to be true, but after speaking with the staff at V.I.N Bhupi and Prajana in particular, I felt a lot more comfortable with the idea that this 'To good to be true' opportunity was actually a real possibility. I applied for the 6 week program, then after all the paper work and forms were completed I could not wait to begin.
I arrived in Nepal two weeks prior to when the program was to commence, this gave me time to see a lot of Nepal. All around Kathmandu, Annapurna circut, Pokhara, Chitwan and so on. I was very nervous and ambivalent about the program, I was worried about the quality and it's legitimacy, pretty much because it did sound to good to be true. How ever when I was picked up by Ahkal (VIN's driver, a very lovely and funny man) and taken to VIN's office, any worries or scepticism I had immediately dissipated. The building was beautiful, the staff where so happy, humble and kind. I even felt guilty for questioning these beautiful people, who do truly do so much for Nepal. I had my induction where we learnt about Nepal's customs, behaviours and had language lessons.
When I first started at the monastery I couldn't believe the view and vibe, there really was a blissful peace in the air. The monastery I was placed in was spectacular, it had an amazing view, amazing monks, an amazing Gompa (prayer hall/temple) everything well en-truly exceeded my expectations. I will say however I visited four other monasteries while I was there and the monastery I was staying at was a bit nicer, I really did luck out on my placement, with that said the other monasteries were still beautiful, they just either didn't have the view, or the prayer hall or something.
Initially I struggled with teaching but after a few lessons I was able to do quite well, then after a few more I would do really well. It just became easier and easier and more fun with each lesson. I was able to learn a lot of philosophy, Buddhist culture, life lessons just so, so, so much. This six weeks was truly the best six weeks I have experienced. I have come home with a revised perception on the world, everything is a bit better, I recommend this experience to anyone and everyone.
I will let you know about the struggles I did face however:
The first few days adjusting to reality, and a temporary struggle with the loneliness.
Adjusting to simple meals (which was really quite easy)
Washing my self with a bucket and cold water. (The plumbing at my monastery wasn't working well, this isn't applicable to all monasteries)
Learning my way around town and learning prices. (this was more fun than a problem for me but some people may struggle with this)
And finally, I am already vegetarian so eating vegetarian was fine for me but may be a problem for others.
With that said the staff at VIN do everything they can to support you and assure your time at the monastery or any program more that matter is as best as it can be. I met some awesome volunteers from all around the world, we would hang out in Thamel on the weekends. We had Aussies, Americans, French, Danish, Canadian, Chinese and so many more, it was truly great.
My experience was incredible, so incredible in fact I plan on returning to VIN and the monastery next winter break next year. Between VIN and the Monastery I met some of the most beautiful people I have ever met.
I recommend VIN and the programs they offer, I guarantee it is a fulfilling experience like no other, through a trusted, altruistic and amicable organisation. Go with VIN and I assure you will not be disappointed!
What our Volunteers have said
Testimonials