Fundraising and Grant Writing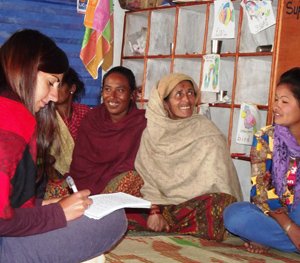 VIN's fundraising and grant writing volunteer program focuses primarily on capturing resources for the continual support of its different programs. You as a volunteer would be engaging in the writing of comprehensive proposals that will be sent to numerous organizations, in the hopes of support – monetary or not. This program is an excellent way for you to combine your writing skills with another side of you that seeks to do something good or charitable for the greater community.
VIN is a not-for-profit nongovernmental organization based in Nepal. We do not have any funding agency. VIN therefore is looking for a Grant writer and fundraiser who can write project proposals based on real life situations in the VIN working sites to fund its upcoming projects. The grant writer will help VIN develop projects for its future working community sites. Why not choose from one of our projects and become another fundraiser / sponsor assisting the development. For example Joycee from Australia has just finished her volunteer fundraising program the completion of toilet construction click here to browse her site.
Project Proposals
Women's Empowerment: developing literacy, rights awareness, income generation, micro-credit and health.
School Improvement Issues: Teacher development, infrastructure development (classroom, toilets, library, playgrounds, computer and science labs, early childhood centers etc).
Children's Development: Children's clubs, Orphanage center, early childhood development centers, child nutrition and health, sponsorships, creative activities, sports etc.
Youth Empowerment: Career development skills, vocational and life skills, English Language improvement, local community volunteering.
Community Learning Center (CLC): A center/ platform for sustainable development practice; having an appropriate training/conference hall, library, computer lab / internet etc.
Community Health: Toilet construction, Pure drinking water, a forestation (environment).
Supporting VIN
As VIN does not have any associated funding organization, it largely depends on volunteer programs. Our administration operates in a cost effective manner. First and foremost, VIN requests all interested donors to send clothes and books, even second hand, if possible. We are in the process of constructing Community Learning Centers (CLC) in the Communities in our catchments. The books, either in English or Nepali, will be warmly received by the village people who have no immediate access to educational materials. Similarly, all clothes will be distributed to needy families upon arrival, allowing about two weeks for organization and transportation. So, If you have ideas, experience, or expertise and wish to help VIN sustain community projects, then let us work side by side, in collaboration with one another.
If it is not feasible for you to collect clothes or books, you can support the people by sending monetary donations which will help us buy materials for students and community members alike. There are two modes through which you may send donations:
Project Summary
| | |
| --- | --- |
| Program: | Program Proposal |
| Project: | Fundraising and Grant writing |
| Start Dates: | 1st and 15th of each month |
| Language Requirements: | English (Basic Nepali is provided) |
| Food and Accommodation: | Nepali Standard at host family in the working community |
| Key Activities: | Grant writing and fundraising by writing project proposals based on real situations in the working sites to fund its uprunning projects. You can also help VIN develop projects for its future working community sites. |
| Beneficiaries: | Women, Youth, Children, Communtiy, VIN staff |
| Working Hours: | 3 to 5 hours a day / 5 to 6 days a week |
| Required Qualifications and Skills: | ideas, experiences, expertise in writing proposal |
Other Volunteering Programs
What our Volunteers have said
Testimonials