Children Club and Life Skills Facilitation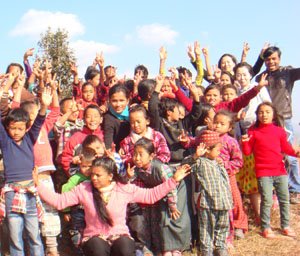 VIN's children's club provide extracurricular programs catering for all skill levels. Volunteers and interns and children's club's executives in these clubs, assist individuals in developing their innate creativity, while increasing their awareness of community issues such as health and the environment.
Volunteering Role
As a volunteer, you will be integrated into a children's club responsible for organising creative activities, whether oriented around contemporary dance, or formal debate, as well as helping the children through workshops that deal with leadership training, life skills. During the placement VIN will sort out your living arrangements by placing you in a Nepali host family where you will get the chance to observe the Nepali culture and everyday practices.
"We learn so many things like writing drama script, role playing techniques which we didn't know before."
Samjhana Tiwari, member of Jitpur Children's Club
"Public Speaking training given by VIN is very effective. We learn how to speak in front of a large group of people. It helps our personality development."
Reshma Lama, Treasurer of Tarkeshwor Children's Club
"Children's Rights Advocacy training is very useful for children. We know about children's rights and responsibilities; we became able to advocate in case of children's rights suppression."
Suman Nyupane, past president of Jitpur Children's Club`
At VIN we regard children as the pillars of a nation, as it is through them that the future is realized.   The organization primarily focuses its programs on exploring the uncovering the potential of all children from our working catchments. VIN mobilize its local and overseas volunteers to facilitate the smooth functioning of Children Clubs in community / public schools where children can participate in a variety of stimulating activities.
The clubs have been essential in nurturing children so that they have the best chance of developing their life skills. Clubs not only offer new learning opportunities, but also provide an environment where children may take strengths to new heights. International and local volunteers have been supporting youth development work in Nepal by organising various activities like Children's Club Strengthening Workshops, interaction programs, life skills camps, career development programs, Magazine publications (including creative articles).
The outcome has been outstanding! – Children have been publishing magazines, making improvements to their school environment, conducting various competitions of their own, and performing community dramas and rallies for child rights awareness. Success lies in the freedom given to the youth to integrate their traditions By volunteering within this program you are supporting the Nepal of tomorrow, a place where every child may flourish.
VIN's Children's Club missions
Promote participation in the learning process
Explore children's innate potentials
Develop life skills in children
Provide a platform to develop creativity and innovative skills
Give the children a means to transfer classroom learning into real life practice
Conduct community awareness activities on health, sanitation and environment.
Bring deprived and disadvantaged children into mainstream education through an all-inclusive, open approach. 
Health issues and statistics
12.22 million Nepali are below the age of 18. 
Children's Health
Half the total population of the country suffers from malnutrition
36 percent of 3.6 million under –five years of age children lack access to basic health services
Every day, 137 children die from preventable diseases
 Children's Education
39 percent children do not complete primary level education
20 percent of those who attended are forced out, due to outside variables
Child Rights Violations
1.8 million children are involved in various kinds of hard labour for their survival; 127,000 involved in extremely physically demanding work.
Over 5,000 children are living on the streets in different parts of the country
51 of 100 children are married before puberty
33 of 100 are subject to some form of corporal punishment
20 children under the age of 16 are sold every day
4,530 children lost their parents ( either mother, father or both) in armed conflict
Project Summary
| | |
| --- | --- |
| Program: | Children Development |
| Project: | Children Club and Life Skills Facilitation |
| Start Dates: | 1st and 15th of each month |
| Language Requirements: | English (Basic Nepali is provided) |
| Food and Accommodation: | Nepali Standard at host family in the working community |
| Key Activities: | Support the children and form Children Clubs in public schools where they can participate and perform various activities to highlight their talents. |
| Beneficiaries: | Children, Schools, Community |
| Working Hours: | 3 to 5 hours a day / 5 to 6 days a week |
| Required Qualifications and Skills: | Interest to work with children |
Other Volunteering Programs
What our Volunteers have said
Testimonials