Home
» »
News Update
» » Volunteers conduct awareness campaign on gastro enteritis at Kavresthali
Volunteers conduct awareness campaign on gastro enteritis at Kavresthali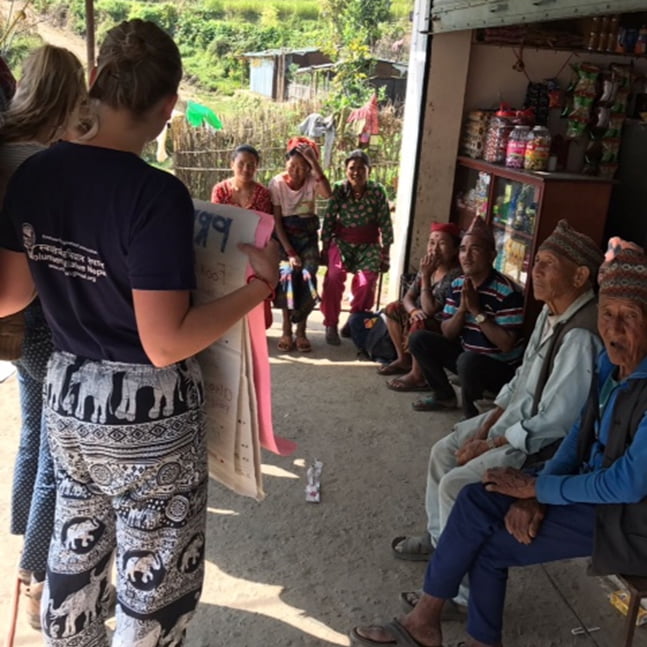 Volunteers awareness campaign on gastro enteritis
"We need medicine and Jeevan Jal, not only information" said by one of the participant in gastro enteritis awareness campaign at Kavresthali. People expect medical supplies for their health problems. They are less aware about prevention of the diseases. Although people understand information about gastro-entiritis, they may not always see what affect little changes can have. Also they rather receive the medicine instead of changing their ways.
VIN volunteers has conducted awareness campaign on gastro enteritis at Kavresthali to aware about disease and its prevention. In a day campaign they trained 10 local people about gastro enteritis and its prevention techniques. Gastro enteritis is found to be the top most problem in Kavresthali. Many people are suffering from gastro enteritis. It might be because of their compromised hygiene practices.
VIN has been implementing Water sanitation and hygiene (WASH) and total sanitation project in the communities to improve hygiene and sanitation status of the communities. About 30,000 people are already benefited from VIN's WASH project and we are still not completed yet. We are mobilizing our volunteers in WASH project as well and the health project work is taking a brisk step towards the improvement of people health of the community where we are working.
What our Volunteers have said
Testimonials