Home
» »
News Update
» » Successful women's empowerment education program in Kavresthali
Successful women's empowerment education program in Kavresthali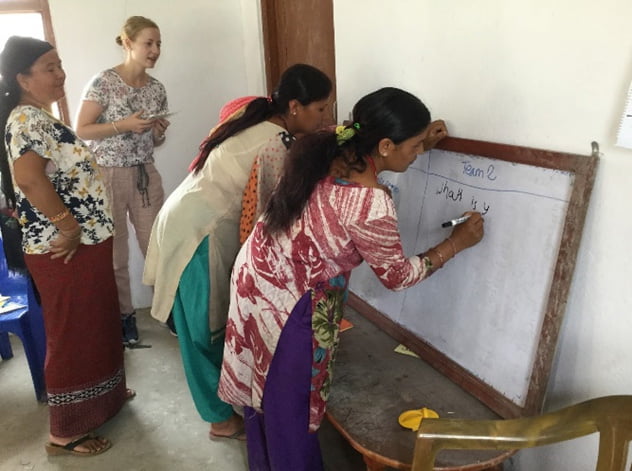 Volunteers teaching essential life skills to women of Kavresthali
As the name suggests, this program aims at empowering women by teaching them essential life skills to reinforce their independence. Thus, English and computer classes are being held by local and international volunteers. Three communities, Kaure, Thati and Thaligaun currently benefit from those classes impacting about 15 women. The newly learned English and computer skills will allow them to manage their businesses effectively and inform their close and remote surroundings about their activities.
To widen the skills set of those women, first aid and waste management classes have also been organized in collaboration with other volunteers working on different projects of the association. Those skills enable the women to lead a safer and cleaner household and better take care of their family.
Teaching in the villages raises a few challenges:
First, most women are farmers which means they are in charge of harvesting and taking care of their families and their household. As a consequence, their schedules are tight and fitting in classes is not always easy. Furthermore, since there is nobody else to take care of their children, the women often have to bring them to class which can be a source of noise and disruptions. Those can also be caused by external factors considering the fact that classes are rarely taking place in a closed environment like a classroom.
Second, since their level of English and education vary, volunteers need to be creative about their teaching methods. In order to meet everyone's needs and interests, playful techniques are being used: Pictionary game, team games, relay game, ball game (…). Thanks to those interactive teaching methods, the women are enjoying classes and making good progress.
What our Volunteers have said
Testimonials