Orphanage Homes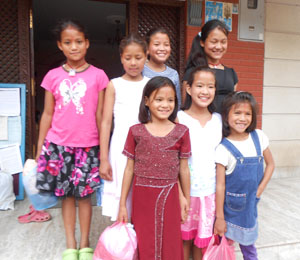 The Volunteering in Orphanage home program in Nepal under VIN offers street children support through the teaching of a variety of subjects to these eager learners. As a volunteer, involved to volunteer in Nepal orphanage home,  you may also organise excursions, play games, and conduct performing arts activities. As well as explicit teaching, other tasks such as preparing the children for school and helping them with their homework; volunteers may also contribute to the children's emotional intelligence, enhancing their communicative skills and ability to interpret various situations. VIN also conducts teaching english in Buddhist Monastery program, where volunteers are send to Buddhist monastery to teach Monks of Monastery.
The Situation in Nepal
Each year, hundreds of children leave their destitute villages to find work in Nepal's crowded cities. Most of these children deprived of education end up working as child labourers in restaurants, factories, and hotels. These disadvantaged children need attention, love, care, and a decent education that could eventually provide a window of opportunity, for future success.
VIN's  program- volunteer in Nepal Orphanage home can be an enriching and life changing experience for both our volunteers and the children. Many of our former volunteers have reported that this volunteer in Nepal Orphanage home project, has brought to them a new way of seeing the world. VIN works in conjunction with two different orphanages in Kathmandu. There are 9 children in one orphanage and 15 in the other. VIN has been supporting them by making donations and placing volunteers in the orphanages.
VIN is also in the process of establishing model children's home – "Nepal Children Home" for orphans. Most of the orphanages in Nepal are poorly resourced, under staffed, and are struggling to run their programs. There is an urgent need of any kind of help and support. There are many areas where volunteers can use their educational skills, and time, making meaningful contributions to the life of orphans of Nepal. Aid is urgently needed in education, skill training, sanitation, and administration. With aid and support from us and Volunteers of VIN in the project- volunteer in Nepal Orphanage home, we can come through and make this Children home.
Volunteer's Role
VIN runs different educational and skill training programs for orphans under VIN child care in Nepal. So depending on the need of the projects themselves and the skill/interest of participants, volunteers can get involved in any of following activities in the volunteer in Nepal Orphanage home project of VIN:
Teach English (2-3 hours a day) in an orphanage or school.
Sanitation (teaching personal hygiene).
Organise games, drawing, and other creative extracurricular activities.
Plan excursions.
Help with homework.
Care for those who cannot go to school.
Assist with kitchen duties, and maintaining the kitchen garden.
Skills/Qualifications Needed
There is no need of a specific qualification for Volunteering in Nepal Orphanage Programs in Nepal. However, the volunteer should be interested in working with the orphans as well as be loving towards them, having a willingness to share themselves with the children, and be passionate about the cause that VIN is promoting.
Room/Food/Supervision    
VIN ensures volunteers at the orphanage are offered a private room served three meals a day. If this is unavailable at the time volunteers will be placed in one of our many welcoming host families.
Location Descriptions  
The orphanages on the periphery of Kathmandu central, within 10km. Kathmandu is a vibrant and bustling capital of Nepal, peppered with ancient centres of culture and beautiful viewpoints from which to enjoy a masala tea (chia) and watch the sun go down. Kathmandu is an international city offering a range of global cuisines, internet cafés, clubs, shopping centres, and banks. The volunteers will have numerous opportunities to explore cultural heritage sites during their free time. Volunteers may also choose to hike or ride through the picturesque villages nearby.
Your role while volunteering in Nepal Orphanage home
VIN and its partners, through the years have developed expertise when it comes to working with these children. With each volunteer that comes through the organisation, the feedback that we receive allows us at VIN to refine and improve our methods to ensure the children's best interests are met. As a volunteer, your role will be to interact and communicate with orphanage children, teach some sports, help them in learning/education, help in their sanitation. They need to work with children and so volunteers need to be children lovable. VIN believes that the key to the plight of these street children is education, but we also realise that education cannot be provided without ensuring that they are simultaneously provided adequate shelter and food. Bringing these children off the streets is our priority, so that they too may realise their greatest potential.
Working with elderly Citizens
We also support placements for those interested in providing care for the elderly. If you would like to serve elderly people then contact us. We can be your means to them.
You can also join VIN to teach english in Community Schools. 
Project Summary
| | |
| --- | --- |
| Program: | Child Care: Volunteer in Nepal Orphanage Homes |
| Project: | Children's Development |
| Start Dates: | 1st and 15th of each month |
| Language Requirements: | English (Basic Nepali will be provided) |
| Food and Accommodation: | Nepali Standard – 2 to 3 times a day |
| Key Activities: | Teaching English, creative works, support for homeworks, caring |
| Beneficiaries: | Destitute children age 3 to 15, volunteers, local staffs |
| Working Hours: | 3 to 5 hours a day / 6 days a week |
| Required Qualifications and Skills: | High School / No formal schooling and experiences needed |
Other Volunteering Programs
What our Volunteers have said
Testimonials