Farming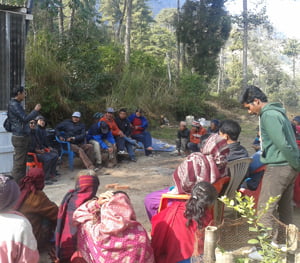 VIN's Volunteer Agro Farm program aims to integrate the old farming technique with the new one. It looks to teach local farmers innovative farming techniques while being mindful of traditional methods. This perceptive approach allows for relevant development in communities and for smooth integration with local lifestyles. The name volunteer Agro farm refers to volunteering in Agro farm program of VIN.
As a volunteer you will be placed with a local Nepali family and your main role will be to assist in the Agro Farm, learn new ways of farming, and possibly even impart some of your own knowledge of agriculture to the locals. As agriculture is one of the largest sources of income for Nepal, it is a big part of who the people are. The volunteer agro farm program is one in which the volunteers input may directly impact upon their host family's livelihood. It is truly a proper immersion into Nepalese culture and lifestyle.
 Who should apply?
This Volunteer Agro Farm program is run under the women's empowerment division set up by VIN. This program is suitable for environmentalists with an interest in climate change, sustainable agriculture and livelihood, international relations, social work, development studies, and cultural studies. The Agro Farm is also an interesting option for those interested taking a gap year, or are on a career break, or are on vacation.
 Why is agriculture?
Being a major sector of the economy, employing 70 percent of the total population and comprising of 37 percent of Nepal's GDP, agriculture couldn't be more important. Out of this significant portion of the population, many are subsistence farmers, meaning that farming is their sole source of income. Therefore, the development of this sector is crucial for improving the quality of life of the majority of Nepal. Recently integrated agriculture models have been proving successful for many Nepalese farmers. We can find livestock, crops and other enterprises being set up side by side. We are looking for environmentally sustainable methods of farming, and creative ways in which they can be promoted to surrounding communities.Fond of rural life? Then the chance to work alongside Nepalese farmers in beautiful rural areas may well be for you. Upon observing Nepalese farming you will begin to understand how many of the farming is are in fact already sustainable. Volunteering at the Agro Farm is not just about farming, but sharing knowledge about different cultures and the ways of living. Volunteers interested in sustainable, low-resource or traditional types of agriculture can e experience.
VIN offers packages for volunteers, enabling them to learn about the Agro-farm of different indigenous tribes in Nepal such as Balami, Tamang, Newar etc. By volunteering with such races of people you will be able to compare what you already know about farming, with what new material you are acquiring, and maybe even come up with new techniques.
 GOALS
To give volunteers the experience of working within the system of traditional Nepalese Agriculture
To raise awareness within our targeted community about dignity of labour and motivate them to start income generating agricultural enterprises
To generate income from our farm and use that income to help improve the conditions of the rural communities we work with.
To bring some visible changes to the livelihood of very vulnerable farmers within the local area
To study the locals who engage in indigenous agricultural practices that one rarely finds anywhere else in the world
 Rationale
Empower socially discriminated, vulnerable, marginalised communities of Nepal
Provide technical know-how to the farmers without negatively affecting/disturbing their traditional knowledge and authentic techniques.
Work towards Livelihood improvement for targeted communities.
Raise funds for the community development work.
Why Volunteer in the Agro Farm?
As an organic / non organic farming volunteer, you will learn how to grow your own food without pesticides, be exposed to many new and alternative learning experiences, and will be given a chance to give something back to the environment. During your stay, you will be living together with the farm family where you will all work, learn, cook, and eat together as one. It is a great opportunity for you to fully immerse yourself into the Nepalese culture and lifestyle.
Required Qualifications and Expertise
Volunteers for program must: – Be 18 years or older, have no major health problems, be flexible about plans and be committed.
No previous experience is required to apply for a volunteer or internship position; however VIN greatly appreciates volunteers who possess:
Expertise in a related subject area, such as economics, agriculture, micro-enterprise, accounting, business or entrepreneurship.
Writing and documentation skills.
Experience in a relevant workshop topic, such as, having previously worked in an agro farm/ organic farm
Flexibility and patience (volunteer work is tough, often frustrating but ultimately rewarding, especially in Nepal.)
A passionate desire to change lives positively.
Developing sustainable agriculture is one of the most effective ways to transform communities. Nepal produces incredibly resourceful entrepreneurs, mentors and leaders. All they need is the right tools, encouragement and training. With these above qualifications you can Volunteer Agro farm program.
As a volunteer it is important to remember that:
Cultural barriers can make activities difficult. This is normal. It takes time to build relationships and adjust to a new work environment. By the time you leave, you will have new friends and great memories.
Even small efforts can change lives. If you feel you are not contributing, remember, that results take time. An intervention may not bear fruit for many years, but without help, these women will remain trapped in a cycle of oppression and poverty.
Volunteering changes you. Have fun and learn as much as you can
Make sure that you receive the following documents from VIN before you leave for Nepal:
For the General Volunteer
Pre-arrival pack, which includes a general description of the Income generation and agro farm skills programs and the role of volunteers within the program. You should receive this immediately after you book your placement.
For the Specific Volunteer
Placement pack with a detailed description of the project and your specific roles and responsibilities. You should receive this at least 15 days before departure from your home country.
Please ensure that you go through the above mentioned documents thoroughly and understand your roles and responsibilities in this program. If you have any queries or need further clarification, you are always welcome to contact us.
You can start your volunteer work today by collecting materials and donations in your country for VIN's projects. A list of materials that you can bring, as well as tips for fund raising, are provided in the General Volunteer and arrival pack.
Project Summary
| | |
| --- | --- |
| Program: | Environment |
| Project: | Farming |
| Start Dates: | 1st and 15th of each month |
| Language Requirements: | English (Basic Nepali Tips provided) |
| Food and Accommodation: | Home Stay: Nepali standard 2 to 3 meals a day(Daal, Bhat Tarkari) |
| Key Activities: | Agro farm work with VIN staff and / or women in the community. manual work for cultivation, plantation, harvesting, training farmers, documentation, planning |
| Beneficiaries: | Women and other community group, VIN staff |
| Working Hours: | 3 to 5 hours a day / 6 days a week |
| Required Qualifications and Skills: | Anybody interested in manual work/ having prior working experience in the field of agriculture management |
Other Volunteering Programs
What our Volunteers have said
Testimonials