Home
» »
News Update
» » VIN gives English class and computer training to Women of Kavresthali
VIN gives English class and computer training to Women of Kavresthali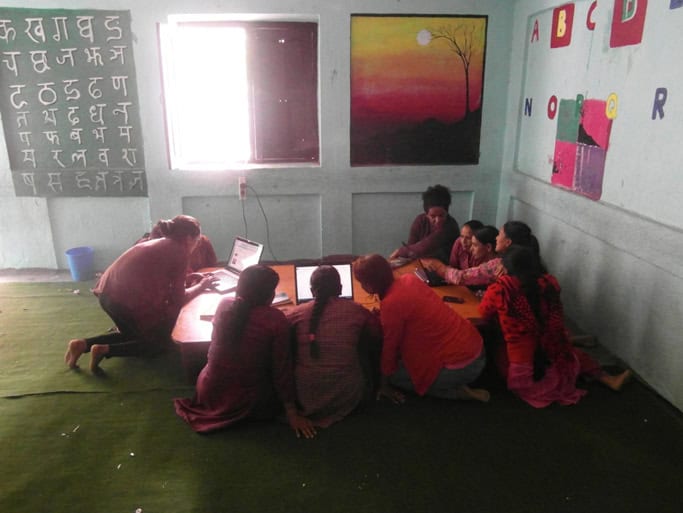 Volunteers giving computer training to women of kavresthali
The goal of VIN's women's empowerment program is to empower women socially and economically through education, life skills and income generation initiatives. This program includes the projects women's entrepreneurship development, micro credit, education and life skill classes and research. Kavresthali is a small community 9km far from Kathmandu. VIN began to do work with this community at the beginning of 2017. Women here are not used to with computer and technology. But it was necessary for them to know English, before teaching computer to women directly. So, VIN began to give them training on computer and English language along with International and national Volunteers of VIN, who are with VIN to volunteer in Nepal. VIN also started to give women many different tools to improve their  English language and computer skill. English lessons to first and second group of 9 to 12 and 10-15 women of different ages respectively. Teaching English, at the beginning was a little difficult because of the different level of the participants. But when we proposed to divide them in two groups the most skilled said that they would rather stay in one group so that they could be helpful too and help the beginners. We really appreciated this because we think it is a good way to create a dynamic where women help and support each other.
Then after, We started  teaching computer to women and with the basics of computer; Introductions/presentations. We worked with all of the women at the same time (short conversations in front of the group). It was not easy to keep the whole group calm, there was at time a lot of agitation. It was a new thing for most of them.
We started by teaching them how to turn on the computer and basic typing so once they can write using the computer we can start teaching them new skills.. We really have to go slowly, because the students are discovering the use of a keyboards, and cannot starting the first week get accustomed to their new tool.
What our Volunteers have said
Testimonials