Home
» »
News Update
» » Volunteers on reproductive health care project and Non communicable disease research
Volunteers on reproductive health care project and Non communicable disease research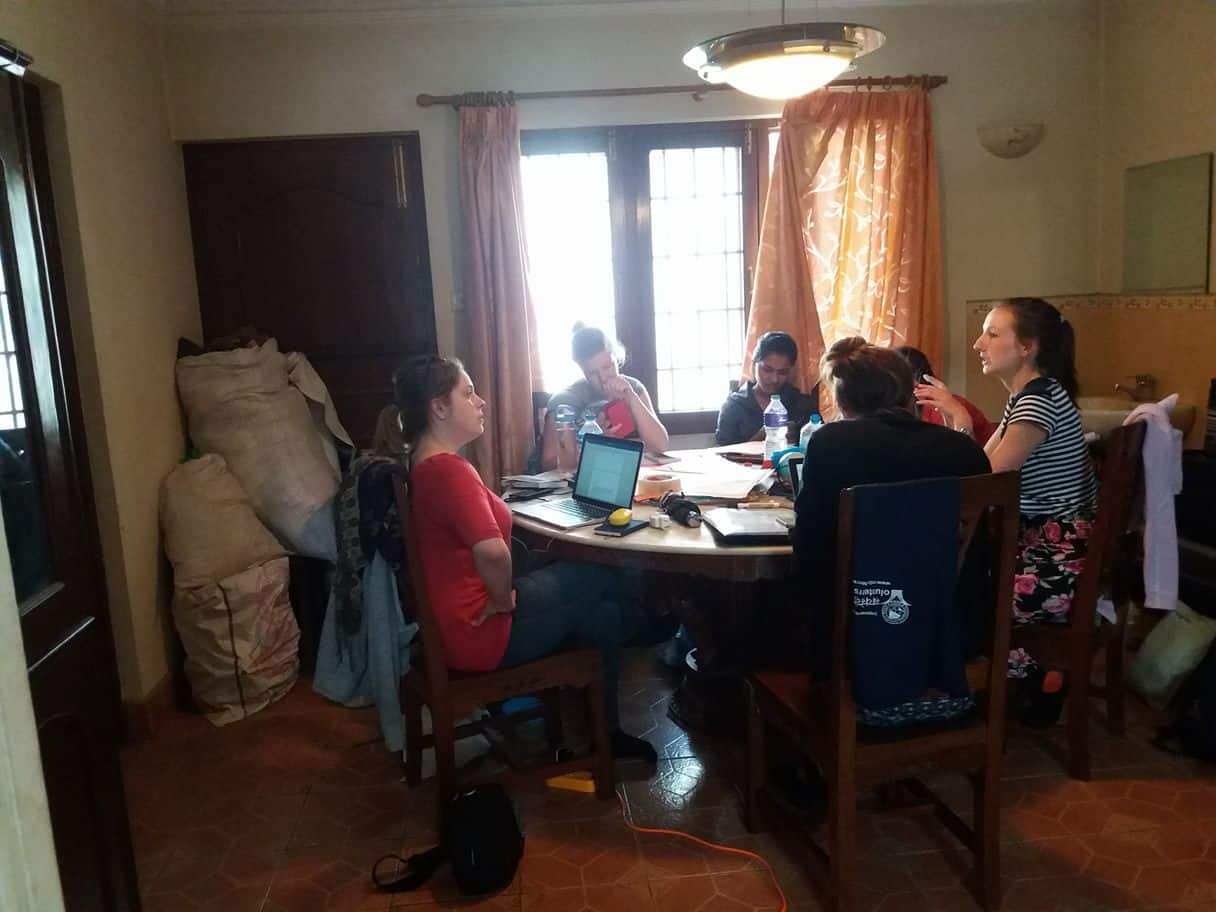 Volunteers discussing reproductive health care and research
VIN welcome four international and two national volunteers for public health and medical care program in May who will give the continuation to Reproductive health care campaign with women at Kavresthali. Three Dutch volunteers and a US volunteer will be working in the project. Alyssa Toorop, Anouk Meijs and Marjolein Wesselo the Dutch volunteers will be doing health campaigns in the community. Two medical students and a health science student have a plan to conduct the reproductive health campaigns in ward 4 and 5 of Kavresthali, the remaining wards from last month where same campaign was organized in ward 6. While Jean Thomas Candio from US will be doing research on Non communicable diseases. They will be working with local volunteer Jyoti in the project to aware local women from Kavresthali about their reproductive health care. They will developed the sessions to discuss about reproductive health issues. The sessions include basic anatomy and physiology of female reproductive system, Menstruation and disorders, pelvic inflammatory diseases, uterine prolapse and cancer cervix. They have a plan to check the blood pressure of the participants at the end of the session. The session was developed based on the experience of past volunteers who worked in health project. It was reported that many women complained about the low abdominal and back pain with menstrual disorders. It has motivated us to develop this sessions. We hope this will support local women to aware them about their major illness. Also this group of volunteers will work in community clinic on every Tuesday.
Thomas has a plan to do research in status of non-communicable diseases in Kavresthali. He has a plan to visit 300 households to interview and check the medical records of the diagnosed patient and check the secondary data from health post. He will be working with a local volunteer Punam for the community survey. The expected output of the research is to find the current status of non- communicable diseases in the community. It will support us to develop the future project to control and prevent non communicable disease in the area.
We are happy to have volunteers into the project at this time. They are excited to work in the project. Volunteers' contribution into the reproductive health care project and non communicable disease research is appreciable. We wish them good luck for the project.
What our Volunteers have said
Testimonials